Welcome back to the Product Spotlight series in the Beanstack Blog! Here, you'll find news about our latest features and insights into how Beanstack's tools can help you achieve your reading goals. Whether you're already using Beanstack, or you're looking to build a culture of reading in your community, this series is for you.
What's New
We're excited to announce the launch of a new feature in Beanstack, Reading List Challenges! Beanstack is the first to provide schools, libraries, and families with this innovation, allowing users to create and take part in challenges that feature specific titles.
Reading List Challenges automatically reward readers with badges, completion notifications, and other incentives for logging and finishing titles in the challenge. Librarians and media specialists can create their own reading list challenges or use a Beanstack template (look out for templates coming in 2022, including Newbery and Caldecott Award Winners, genre challenges, and more).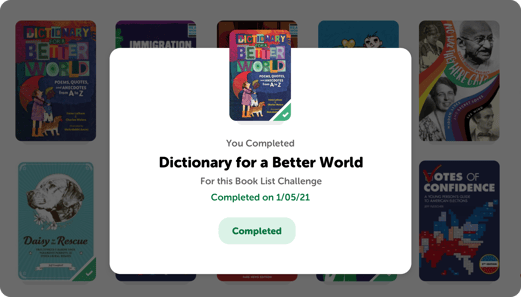 This feature launch coincides with the introduction of eBooks in the Beanstack web and mobile apps through a partnership with Lerner Publishing Inc and our annual Winter Reading Challenge, which kicks off in January 2022.
Participating libraries and schools will have unlimited simultaneous multi-user access to Lerner published book titles for the duration of the challenge, directly in the Beanstack web and mobile apps. That means every reader at participating schools and libraries will have instant access to quality titles with no holds, wait times, or borrowing limits.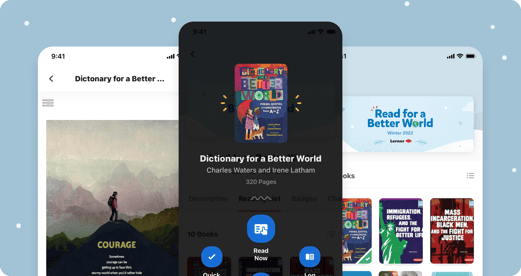 Providing eBook content directly in the Beanstack app makes the reading challenge experience simpler and more delightful than ever, reducing friction while providing valuable reading resources to Beanstack's library and school partners across North America.

Reading List Challenge Use Cases in Libraries and Schools
The Reading List Challenge feature and Lerner content integration have immediate applications in both schools and libraries, in addition to being useful for consumers. "In my team's work with public libraries, we see ongoing sales of our 'Premium' package, which includes features for creating reading lists and sending book recommendations," says Lindsey Hill, director of library and corporate accounts. "This demand is a clear indication that public libraries will value a more seamless relationship between making recommendations and creating challenges. TBH, it's a marriage made in library heaven"
It's a marriage made in library heaven
Elizabeth Ross, Zoobean's first school success manager, has separately seen firsthand that schools frequently create reading challenges focused on specific titles. "When I began working with Broward County Public Schools, their leadership put almost all of its emphasis on encouraging students to read Sunshine State Youth Reader Awards books," Ross says. "We've since seen the same from other districts—from Black-Eyed Susan award winners in Maryland to Bluebonnet award winners in Texas. In fact, we've begun recommending challenges like these to school clients because it helps them understand how Beanstack can drive their libraries' book circulation and tie back to their core curriculum."
In spite of the growing number of challenges on Beanstack that highlight specific titles, readers previously had to go through a series of steps to earn credit for completing one of these books—even after they have already logged that book. Reading List Challenges will save users this time and effort.
The Reading List Challenge feature has launched on both the Beanstack web application and mobile app. It is available to all Beanstack customers and users at no additional charge.

Not a Beanstack partner yet, but want to run a reading list challenge? Reach out today!