Welcome back to the Product Spotlight series in the Beanstack Blog! Here, you'll find news about our latest features, product updates, and insights into how Beanstack's tools can help you achieve your reading goals. Whether you're already using Beanstack or you're looking to build a culture of reading in your community, this series is for you.

What's New
It's now easier than ever to connect readers to titles in your collections with the introduction of links within Beanstack's reading list challenges. First introduced at the end of 2021, reading list challenges help librarians and media specialists feature and track reading for specific titles. With our latest update, you can now add your own links to individual titles within a reading list challenge, so that users can directly access resources and reading materials. With one tap or click, readers can put a hold on a title in your catalog or open up an ebook right from the Beanstack web or mobile app. And as they read and log those titles, they earn badges and other custom incentives included in the challenge.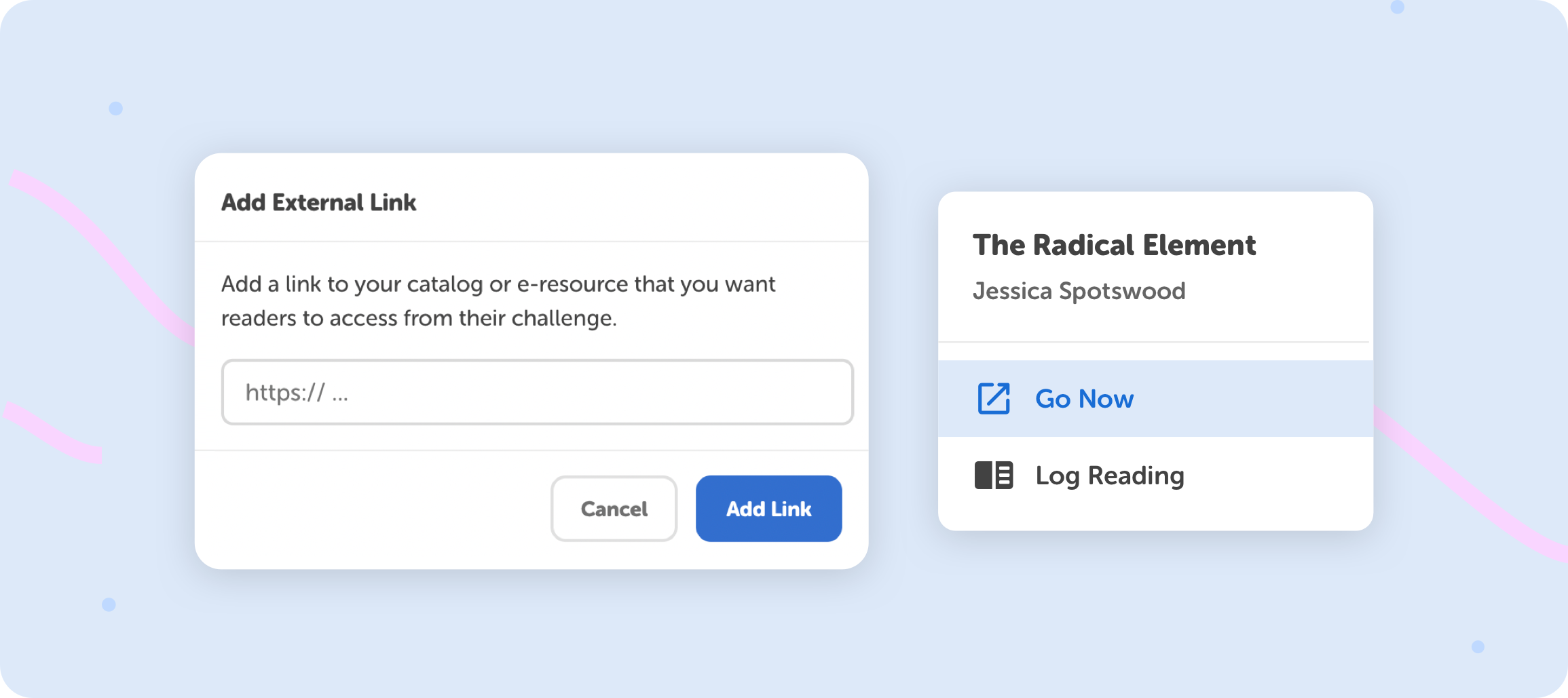 "Being able to link students to materials within a reading challenge is really a game changer," says director of school accounts Dave Hopp. "Reading list challenges' content links solidify Beanstack's role as a hub for school and library reading resources. We're making it even easier for our partners to reinforce lifelong reading habits in their communities."
You can create your own unique reading list challenge or activate one of our ready-made challenge templates to get started. Our collection of challenge template offerings highlight Newbery and Caldecott Medal winners, feature state's award-winning book list, can be customized to showcase your school principal's favorite books, and more. Then, you can easily add your own links within the challenge setup, whether to a specific page in your catalog or an entry in one of your e-resources.
This new feature comes as we also ramp up the content offered within reading list challenges. Our first Short Stacks challenges, which feature a series of engaging and original nonfiction stories for students in grades 3-5 to read in the app and come with helpful lesson plans and educator guides, debuted in spring 2022. We're continuing to release new Short Stacks in the 2022-23 school year centered around attention-grabbing themes like "Not So Creepy After All!" and "On This Day in History." And we're also introducing ebook reading challenges, another new Beanstack offering that gives students unlimited access to curated and leveled book collections on captivating themes, like space exploration and sports, directly in challenges and for the lowest prices around.
"By offering kids and teens a library of reading material right in Beanstack, we're supporting a richer and easier independent reading and discovery process," says senior school success manager Elizabeth Ross. "Teachers, media specialists, and librarians so far love the smooth and streamlined connection between their challenges and their resources."
With all of these new features, we are providing even easier access to reading content within reading challenges to help further motivate students and users of all ages to read—and read more. Providing easy-to-access reading content directly in Beanstack makes the reading challenge experience more enjoyable and addicting than ever before. With engaging and recommended reads easily available to participating readers, we're helping our partners reduce barriers to access and providing valuable reading resources to thousands of libraries, schools, and communities around the world.
Reading list challenges' content links feature is live on both the Beanstack web application and mobile app. It is available to all Beanstack customers and users at no additional charge.
Not a Beanstack partner yet, but want to run a reading list challenge? Reach out today!