Welcome back to the Product Spotlight series in the Beanstack Blog! Here, you'll find news about our latest features and insights into how Beanstack's tools can help you achieve your reading goals. Whether you're already using Beanstack or you're looking to build a culture of reading in your community—this series is for you.

Announcing: Ebook Reading Challenges
We're excited to announce a new way to connect your students to top-notch reading resources in Beanstack. Our brand-new ebook reading challenge store, developed in collaboration with Lerner Publishing Group, gives students access to compelling ebook collections directly in the Beanstack app—all for the lowest prices and best licensing terms around.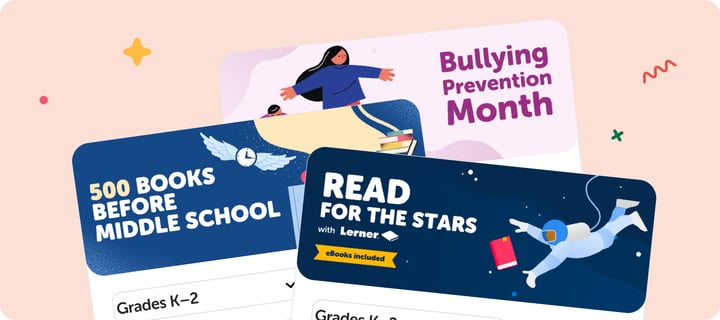 By providing valuable reading resources to school partners across North America, ebook reading challenges make the reading challenge experience simpler and more delightful than ever. The all-in-one reading, logging, and gamification experience reduces barriers and gives you and your students one consolidated reading hub.
"We really wanted to reduce friction and widen access to world-class reading content," product manager Kelly Hiser explained.
"With ebook reading challenges, students can easily find their next read, open that ebook, save their progress, and unlock motivating badges for that reading session."
How It Works
We use our existing reading list challenge technology to feature a select list of ebooks in each challenge and then award badges to students for reading for those specific titles. Once logged in to Beanstack, students can open an ebook right in the app and automatically track their reading session and page count. They can even highlight or leave notes on sections that interest them within our accessible epub files. When they're done reading, students save their log and unlock any applicable badges.
"These new ebook reading challenges really streamline the reading challenge experience for students, teachers, and media specialists," client success manager and former teacher Lauren Hantzes said. "Now, during extended learning or independent study time, all students have to do is log into a tablet or computer to open a book and track what they read."
Ebook reading challenges cover a wide range of fun and interesting themes, like space exploration, STEM, sports, animals, and more. Each challenge includes a curated book collection of three Lerner Publishing Group titles. These high-quality ebooks are all carefully leveled to a specific grade or grade range to capture students' curiosity and advance learning and development goals. The titles span nonfiction reads, classics, fictional chapter books, and even comics to appeal to every type and level of reader from kindergarten to high school.
With perpetual simultaneous use licensing for each title, the ebooks are available to students at any time, for as long as you want to use them. No need to re-license titles in another 12 or 24 months, no waiting to borrow titles, and no restrictions on when students can read. And our collaboration with Lerner Publishing Group secures you the lowest price possible—up to 40% off the list price of the challenge's included ebooks.
Each challenge comes with eye-catching challenge artwork, from banners and badges to school flyers and social share images. Just like with all our other reading challenges, you are always in the driver's seat, with the ability to edit any of the challenge's badges, dates, completion requirements, and other details to match your community's unique needs.
And to really drive home the learning in the ebooks, our matching teaching guides can help you expand on each text in the classroom or the library. Aligned with key academic standards, the lesson plans build reading comprehension skills, explain new vocabulary, encourage critical thinking, and lead students through an enriching educational activity.
Get Started
Ebook reading challenges are available to all of our school partners in North America for the low price of $99 per challenge, or even less when purchased in bundles of three to five challenges. Simply open up the Challenges dashboard of your Beanstack site to browse the store and order your challenges.
Not a Beanstack partner, but looking to consolidate your reading resources and offer engaging ebook reading challenges in one platform? Reach out today!