The start of a new year is a time for self-reflection, as people sit back and contemplate what they want to achieve in 2022. Many people opt to get healthier, start a new hobby, or spend more time with family. But there's one often-overlooked resolution that is proven to reduce stress, boost empathy, and cultivate curiosity: reading.
Reading every day benefits people of all ages—and here at Beanstack, we believe winter reading challenges are the best way to encourage students and patrons to make a reading resolution in 2022. We've compiled our top winter reading challenge tips to help you inspire readers to curl up with a good book this January.

Keep it simple with reading challenge templates
It can feel daunting to plan out a winter reading challenge from scratch, especially with stretched staff and limited resources. But you don't have to invest as much time and energy into a winter reading challenge as you do more intensive summer reading programs. Instead, rely on Beanstack's pre-made templates to work smarter, not harder.
With Beanstack's templates, you can launch a challenge in just a few clicks or choose to customize your program to fit your library community. Remember: your winter reading challenge might be less complex than its summer counterpart—and that's okay. It will still drive engagement and keep patrons reading during the off-season.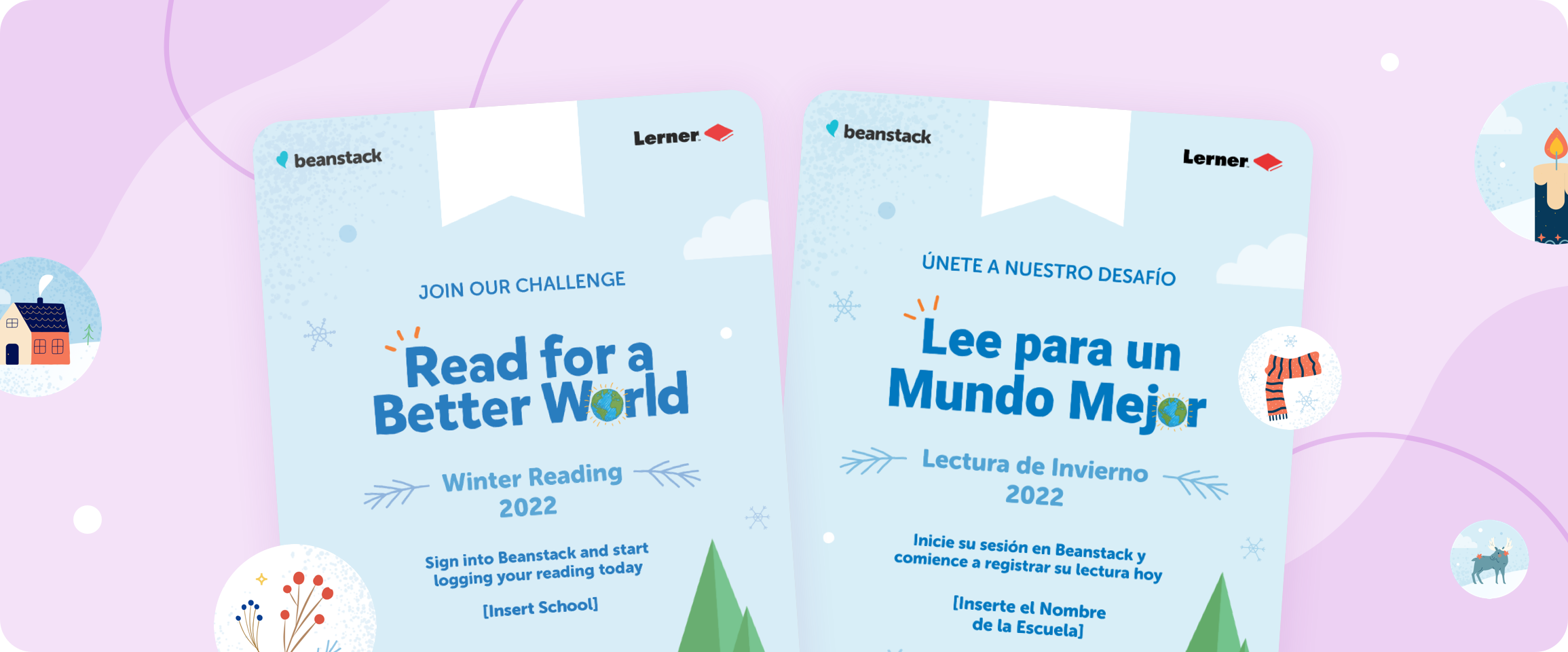 Lean into ready-made marketing materials
To make winter reading an even lighter lift, consider using the pre-made marketing materials that come with your Beanstack template. Our marketing materials are thematic and fun and will save your staff hours drafting posters in Photoshop. For our 2022 challenge, "Read for a Better World," Beanstack created a launch kit with customizable challenge descriptions, cute winter badges, sample social media content, and bilingual posters. These materials are ready to go, though you can always make them extra special by tailoring them to fit your library if you have the time.
Set achievable community goals
The holidays are a time for celebrating community, so why not carry that spirit into the new year by setting a community reading goal for your winter reading challenge? Christian County Library in Missouri brings its community together during winter reading by working together to read a certain number of minutes in January and donating to a local cause if they hit their goal. Similarly, in 2021, Suffolk Public Library in Virginia challenged their community to read 8,000 books during their winter reading challenge. The prize was a series of sponsored author visits from Simon and Schuster—a reward that every patron can enjoy.

Inspire readers with a winter reading mascot
One easy way to reward readers for meeting their community goal is with a fun, wintry mascot. At Suffolk Public Library, librarians bring out a penguin mascot during their winter reading challenge to make the library feel like a winter wonderland. For school libraries, bringing in a winter mascot is even easier—just dress up your current mascot in some winter gear, like a scarf and mittens or a silly hat.
Don't forget: if it's hard to convince your patrons to visit the library on frigid winter days, you can also post playful pictures and videos of your mascot on your social media channels to inspire readers at home.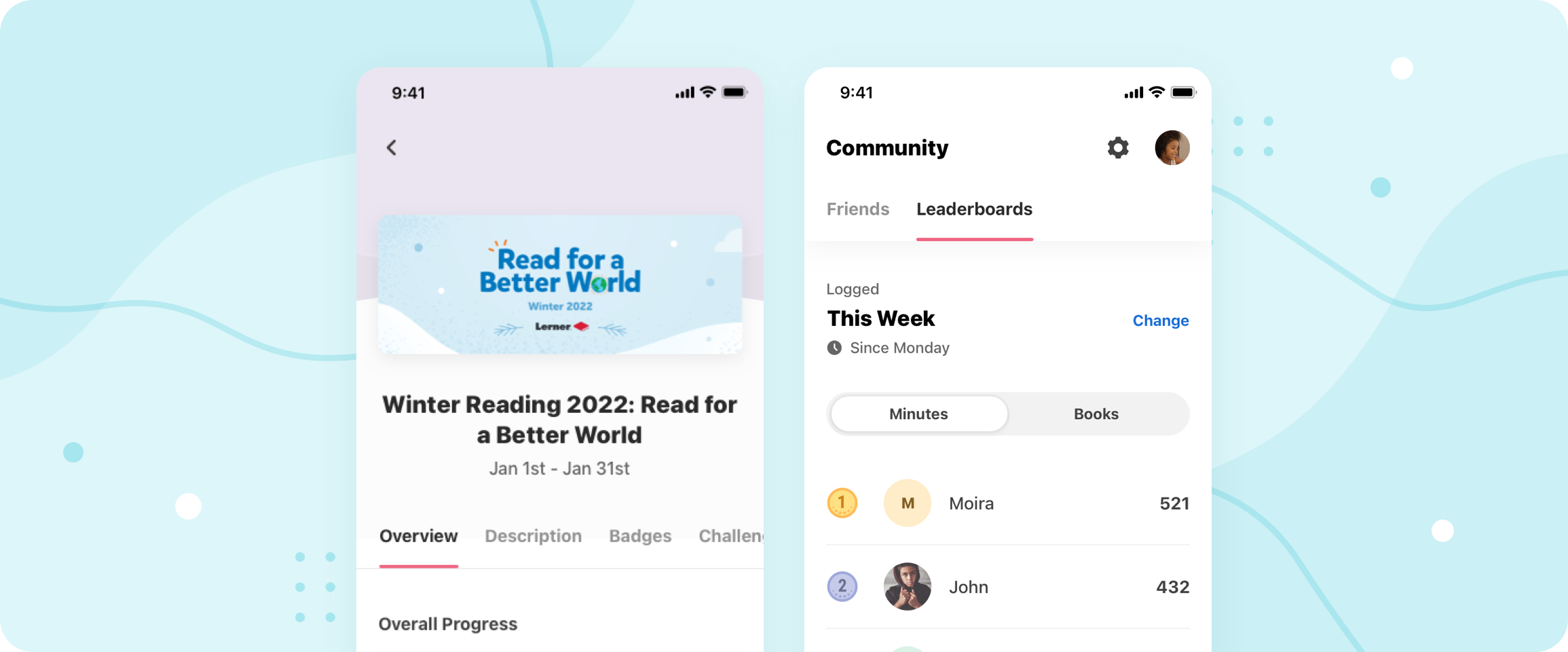 Go digital
Taking your reading challenge online is an easy way to keep students and patrons engaged, whether they're visiting the library or reading at home this winter. Digital apps like Beanstack let readers track their progress on an easy-to-use mobile app and earn fun badges along the way. Patrons and students can also compete with friends on the library's leaderboard and keep track of the library's progress toward its community goal. Plus, your staff won't have to spend time manually entering patron reading data.
Reach out to community partners
Finally, don't be afraid to reach out to community partners to ask for help. Organizations that sponsor summer reading challenges are often willing to pitch in to support winter reading, too. Community sponsors may donate unique prizes, sponsor a celebration for students and patrons, or make a donation to a local charity if readers meet their goal. They can also help advertise your winter reading program, which will expand your reach and draw more community members into the library.
If you work at a public library, contact local schools to see if they have a winter reading challenge in the works. You can piggyback on each other's programs and encourage everyone in your community to make a reading resolution in 2022.
There's no better way to dive into the new year than with a new challenge—especially one that brings your community together. With these winter reading challenge tips, your patrons are sure to stay engaged throughout the "off-season" and keep your library programming top of mind all year long.
This year, we're partnering with Lerner Publishing Group to help readers of all ages explore diversity, empathy, and social action through reading. Learn more about the 2022 Winter Reading Challenge: Read for a Better World.
Learn more about Beanstack reading challenges.