We're excited to now be able to announce the recipients of our Beanstack Black Voices Microgrants.
See below for the full list of recipients, some highlights of what some of the projects will hope to accomplish, and more on the idea behind the microgrants.
Congratulations Grant Recipients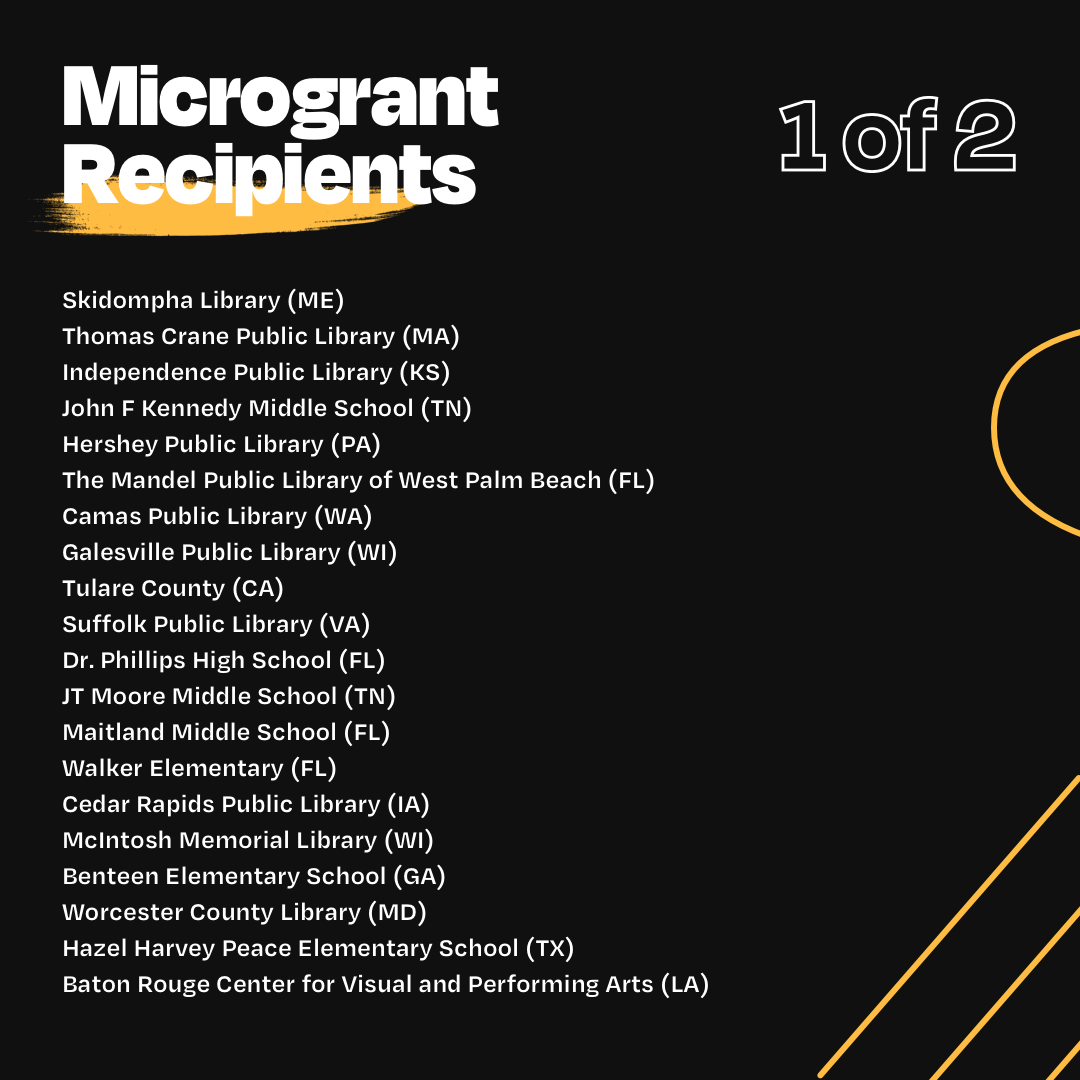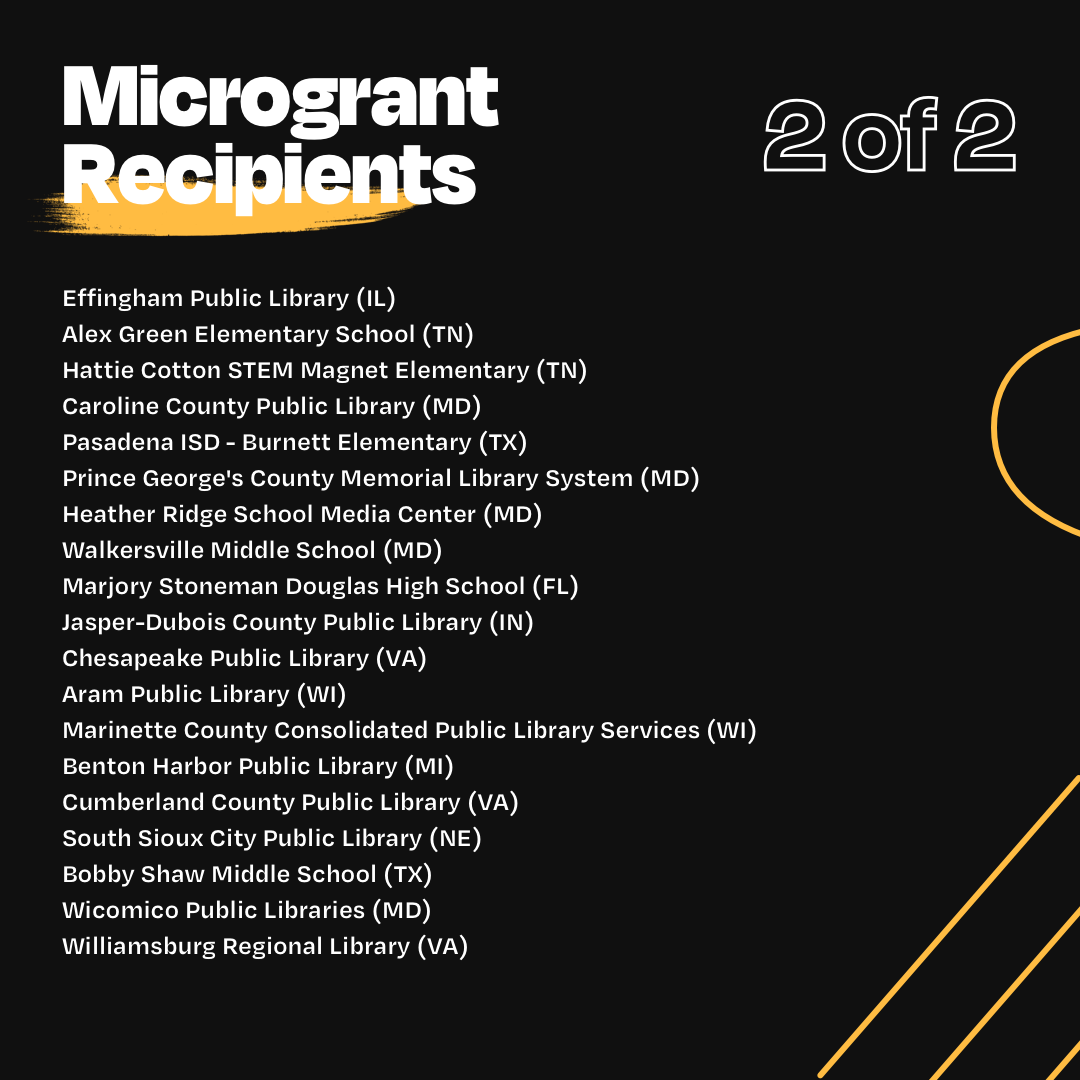 Anticipated Projects & Impact
The Beanstack Black Voices Microgrants will fund projects based on original project proposals from our customers. Check out some of their ideas:
Beanstack pro

Cedar Rapids Public Library

has been offering the Read Woke Challenge to their patrons since June 2020, and will use the grant to improve the program and expand its reach. They plan to offer more resources for families who participate, engage the community in discussion around their reading, and step up their virtual programming. This will allow them to impact hundreds of additional community members.
We love the inspiration behind Hershey Public Library's idea - based on the concept of "Windows, Mirrors, and Sliding Glass Doors" and the movement #OwnVoices, they plan to invite community members to "to share in a celebration of human diversity." Their program will draw upon the expertise of local educators and activists to create opportunities for dialogue among participants of multiple ages.
Walker Elementary of Broward County Schools plans to further support families by offering a recurring storytime that students can attend virtually. They will select an array of diverse books for the storytime and use Beanstack to motivate students to participate and log their reading.
John F Kennedy Middle School of Metro Nashville Public Schools knows that food is one thing that unites us (like books!), so they have the great idea to host weekly lunches where students will be invited to discuss the selected books and articles. The program, which has other components as well, aims to dispel misconceptions about the Black Lives Matter movement and support the library's goal to "make certain that all students feel respected and valued in [the] library."
We're excited to see all the programs in action. Stay tuned for updates!
How We Got Here
Back in June, in the wake of global unrest following the killings of George Floyd and others, our Co-Founder and Chief Client Success Officer Jordan Lloyd Bookey shared these words with our clients:
"Zoobean is our 'third child' with the core values of love, inclusion, and awesomeness that we established from the beginning. Now, we are recommitting especially to our value of inclusion and ensuring that we live up to it every single day."
As many of you know, June and the following weeks are especially busy with summer reading challenges and the pending start of the new school year. Still, our Beanstack community leaned into these values and worked to support one another to translate this commitment to action. We hosted our "We Stand Together" Town Hall Meeting, where our clients discussed the events and brainstormed ways to address them. We worked with Cicely Lewis, creator of the Read Woke movement, to offer a Fireside Chat and turn Read Woke into a Beanstack challenge that everyone can use.
Beanstack Family, today we announced Beanstack Black Voices Microgrants. This program is designed to support our clients in efforts to bring about social justice in their communities.

Read a note from our founders and learn more: https://t.co/HDG3muccO7

— Zoobean (@zoobeanreads) August 27, 2020
And finally, in August, we announced the Beanstack Black Voices Microgrants, to help our school and library clients advance social justice and equity initiatives in their own communities. It was important to us to take an action that would sustain beyond just the current news cycle and effect real change. We're inspired by the ideas that applicants have imagined for their local communities, and we look forward to seeing their programs in action.
Congratulations again to all the grant recipients! Follow along with us on social media and here on the blog for updates about the Beanstack Black Voices Microgrant projects.