Beanstack Black Voices Microgrants
In solidarity with the Black Lives Matter movement.
Zoobean will be awarding microgrants to bold projects that uplift Black voices. These funds will go to our library partners seeking to establish or enhance local programs that advance social justice and equity.
We know that our library and school communities are well-equipped to create change at a local level. As Stacey Abrams recently said at the American Libraries Association annual conference, librarians are the bedrock of the community and have the power to reform and transform. Our goal is to provide incremental resources that support the transformations they are already creating.
A note from our founders
As one of our investors, Kapor Capital, wrote in their statement on Black Lives Matter:
"Racial injustice in our country is now in plain view, but it is not new or shocking."
We are outraged by this reality and committed to driving change as individuals and as a company. At Zoobean, we are lucky to work with libraries and schools that provide essential services to people of all ages and backgrounds. Through this microgrant program, we strive to empower our clients to deliver programs that will best serve their communities at this time.
Jordan Lloyd Bookey and Felix Brandon Lloyd
Zoobean co-founders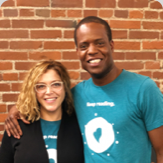 We will be awarding microgrants of up to
$1,000
These grants will go to librarian partners who are discussing and pursuing racial justice in their communities. Librarians know their communities, and our goal is to provide incremental resources that support the transformation they are creating locally.
Project proposals will support the Black Lives Matter movement in one of the following ways:
Elevate Black voices and contributions to inspire social justice in your local community
Improve opportunities and/or equity for Black people in your local community.
Educate non-BIPOC (Black, Indigenous and people of color) members of your local community and inspire a call to action.
How to Apply
Our application process is simple: Complete the form below with your contact information and a basic timeline and overview of your proposed project. Proposals may include adding a new layer to an existing program or implementing a new project from scratch. We will accept applications until December 31, 2020, and provide funding on a rolling basis. Applicants must be librarians or teachers working at libraries or schools that currently use Beanstack.
Ready to submit a proposal?
Fill out this form to submit your proposal for our review.
Applications will be accepted on a rolling basis until December 31, 2020. Library or school must currently be a Beanstack partner and have a school or public librarian with the ability to execute on proposed project.