Innovative and engaging reading challenges are the bedrock of Beanstack. With summer reading challenges, monthly diversity celebrations, and state reading list challenges, there are options for every season, state, and stage of life in our vast reading challenge library. But just what are reading challenges, what exactly goes into them, and why should you use them?

Defining Reading Challenges
At their core, reading challenges are interactive digital reading programs with specific and achievable milestones, like logging a certain amount of reading, completing activities, or submitting book reviews. When readers reach those goals, they unlock digital badges, sometimes alongside custom rewards from their library or school. The thrill of earning a new badge motivates readers to move on to the next milestone, and then the next—building a strong daily reading habit.
Beyond the individual motivation of earning badges, reading challenges also foster community connections. The goals within a reading challenge are shared among a whole community of readers, whether that be a classroom, school, district, city, county, or state. This knits the community together around a common experience and purpose. Reading challenges can even be used to encourage event attendance and community exploration, launch a One Book, One Community project, or promote other initiatives that spread a culture of reading far and wide.
Beanstack's reading challenges also open a doorway to more reading and learning opportunities. Within our reading challenges, educators and librarians can easily link to other resources—like catalogs, e-resources, and online lessons—to create a reading hub for the community. There are no restrictions on the content or providers you can integrate into our platform's challenges, making it a one-stop shop for deep reading engagement.
Engaging Challenge

Themes
There are limitless challenge types and themes within Beanstack's reading challenge template offerings. Challenge templates are our readymade reading challenges that can be activated as-is or edited and customized to fit each community. They include engaging banners and badges from our designers and pre-set, data-driven reading goals to motivate diverse readers for the entirety of the challenge.
We publish a challenge template calendar for schools and libraries every year, with a new challenge going live every few weeks. A whole school district can easily centralize their process and run the same challenges throughout all their schools, or teachers and media specialists at individual schools can create distinct challenges for their classes and students. Libraries can expand their programming and engage with readers year-round without increasing staffing or costs.
Our monthly reading challenge templates run the gamut, from Spring Into Reading and Teacher Appreciation Month to Hallow-read and Hispanic Heritage Month. We also offer yearlong reading challenges for both the calendar year and school year to help kids and adults work toward big reading goals. Then there are our sponsored challenges, which include annual nation-wide contests like summer and winter reading, as well as partnered challenges with organizations like NASA, that give your community a chance to win big prizes.
We also create reading list challenges to assign specific titles to readers. Some of these challenges' titles can even be read directly in Beanstack, like our original Short Stacks, which include engaging and bite-sized nonfiction reads for grades 3–5, and our ebook challenge collections. These challenges align with core curriculum standards and are easy to introduce in just about any classroom and subject. We also curate reading list challenges from top YA authors, like Kate DiCamillo's "Read Brave" challenge, or along engaging themes and formats, like graphic novels.
And we couldn't forget about our host of evergreen reading challenges, like Read the Classics, Pride 365, and 1,000 Books Before Kindergarten, which are ready to run whenever you please. All together, our wide-ranging challenge library has hundreds of challenge template options. And just in case we don't have what you're looking for, our easy challenge tools can guide you through creating a custom challenge or our responsive client success team can help turn your challenge from idea to reality.

Easily Track Independent and Assigned Reading
Logging and tracking reading progress in a reading challenge is quick and intuitive within the Beanstack platform. Whether using the mobile or web app, individual readers or whole families can track reading sessions in real-time with our handy timer or input reading sessions after the fact. Students can use our barcode scanner to effortlessly add titles to their all-time reading log. And teachers, librarians, and other staff members can take just a few clicks to log reading for their classes, students, independent reading groups, or themselves!
With our reading list challenges, educators can customize included titles to match their required or recommended reading lists and then monitor students' progress through assigned reading. And our suite of reading integrity features, including log limits and reading validation challenges—a specific type of reading list challenge that uses smart AI to ask students basic verification questions when they log a title complete—give you peace of mind that students are recording their reading honestly.
Motivate With Gamification
As kids and adults log their reading and progress in a reading challenge, they activate a host of gamification techniques to get them hooked on reading. Within reading challenges, participants earn logging, review, and activity badges to reward and motivate them along the way to challenge completion. And our bingo reading challenges turn the whole challenge into a game, so that students and families can chart their own course to bingo by earning badges in a row, column, or diagonal.
And not only do participants earn their challenges' badges, but they can also unlock surprise achievements. Achievement badges pop up for reading on certain days, like Drop Everything and Read Day, or hitting global milestones, like maintaining a 5-day reading streak. Every consecutive day of reading adds to users' reading streak, creating a self-reinforcing habit to log day after day to build their streak to an all-time high.
Beanstack also harnesses the power of friendly competition with our friends and leaderboards feature. Readers can add their contacts as friends and then see how their reading progress stacks up against their friends on a customizable leaderboard. They can even easily see friends' recent reads to find their next book.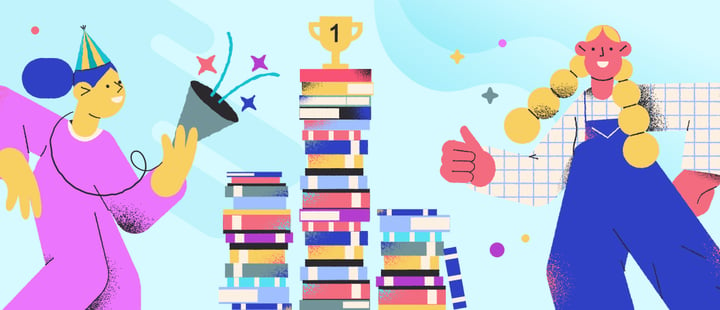 Celebrate Big Goals
With all of Beanstack's built-in reading motivation, communities can reach big reading goals. Reading challenges encourage individual reading gains, but also demonstrate how hitting those milestones can snowball throughout the community. In Beanstack, administrators can promote an overarching community goal, like 1 million minutes. Then, students and community members can watch their reading fill up the progress bar until it ticks up and over the goal.
Staff can also track specific reading statistics with our comprehensive data and reporting tools. A customizable insights dashboard gives librarians, teachers, and other staff members quick progress checks for different challenges, timeframes, ages, and other metrics. Our host of reports can give rows and rows of downloadable data for nearly any variable, from earned badges and redeemed rewards to classroom reading totals. And schools have access to a built-in leaderboard, so that they can reward top readers, classes, and grades—and give extra assistance to struggling ones.
All of these tools help librarians and educators monitor and celebrate their community's reading progress. And to mark the culmination of a big reading challenge or goal, Beanstack partners often get creative with their festivities. We've seen principals take a pie to the face, media specialists get duct-taped to a wall, and librarians dye their hair and kiss a pig! What will you come up with to celebrate your community's big reading gains with Beanstack?
If you want to dive into Beanstack's reading challenges for your community, reach out to our team today to learn more.