Welcome back to the Product Spotlight series in the Beanstack Blog! Here, you'll find news about our latest features and insights into how Beanstack's tools can help you achieve your reading goals. Whether you're already using Beanstack, or you're looking to build a culture of reading in your community, this series is for you.
What's New
Our latest product update is all about helping librarians and teachers find the data they need in Beanstack's reports. We know that robust reporting is central to running successful reading challenges, giving librarians and educators insight into participation that helps with everything from planning to securing funding.
In our efforts to provide more data to our partners over the years, we added so many reports that it became difficult for administrators to easily locate specific pieces of information in the mix. As a result, we frequently heard from clients that they struggled to find the information they needed.
Our product team set out to learn what made the reports experience difficult by gathering recommendations from our Client Success Managers and interviewing several Beanstack library and school administrators. Thanks to their keen insights, we developed a number of changes that dramatically improve the reports experience for librarians, media specialists, and teachers.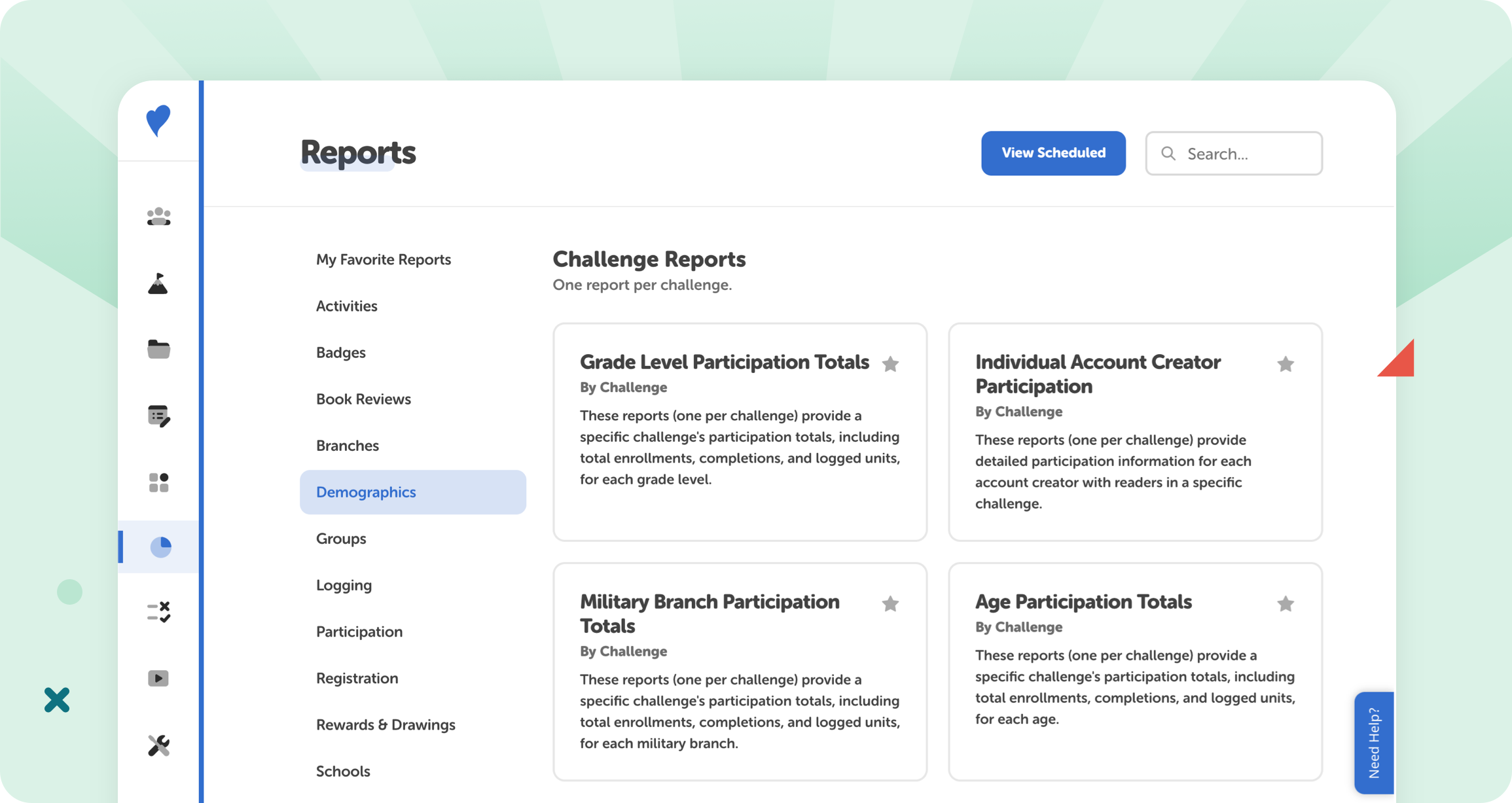 Better Report Names & Descriptions
When our team stepped back to assess the reports experience, we quickly realized that our existing report names and descriptions weren't making it easy for admins to know what information any one report contained. We decided to rename all the reports and rewrite all their descriptions to be more consistent, understandable, and detailed. These changes help clear up confusion about the information each Beanstack report contains.
For Beanstack admins who are already familiar with the existing report names, never fear! At our help desk, you'll find guides that map previous report names and descriptions to their updated versions.
Categories
This reports update also introduces new categories—we've been calling them "buckets"—that filter reports by key parameters. These categories vary depending on your administrative type, so while admins for library sites will see categories like registration, branches, and demographics, school media specialists will see categories for student content and school groups, and teachers will see another set of categories.
These categories break up Beanstack's extensive reports into more manageable chunks that highlight the key insights administrators can expect to find in each type of report. In some categories, you'll find reports further broken down into subcategories (for example, into reports for individual challenges vs. reports not limited to a single challenge).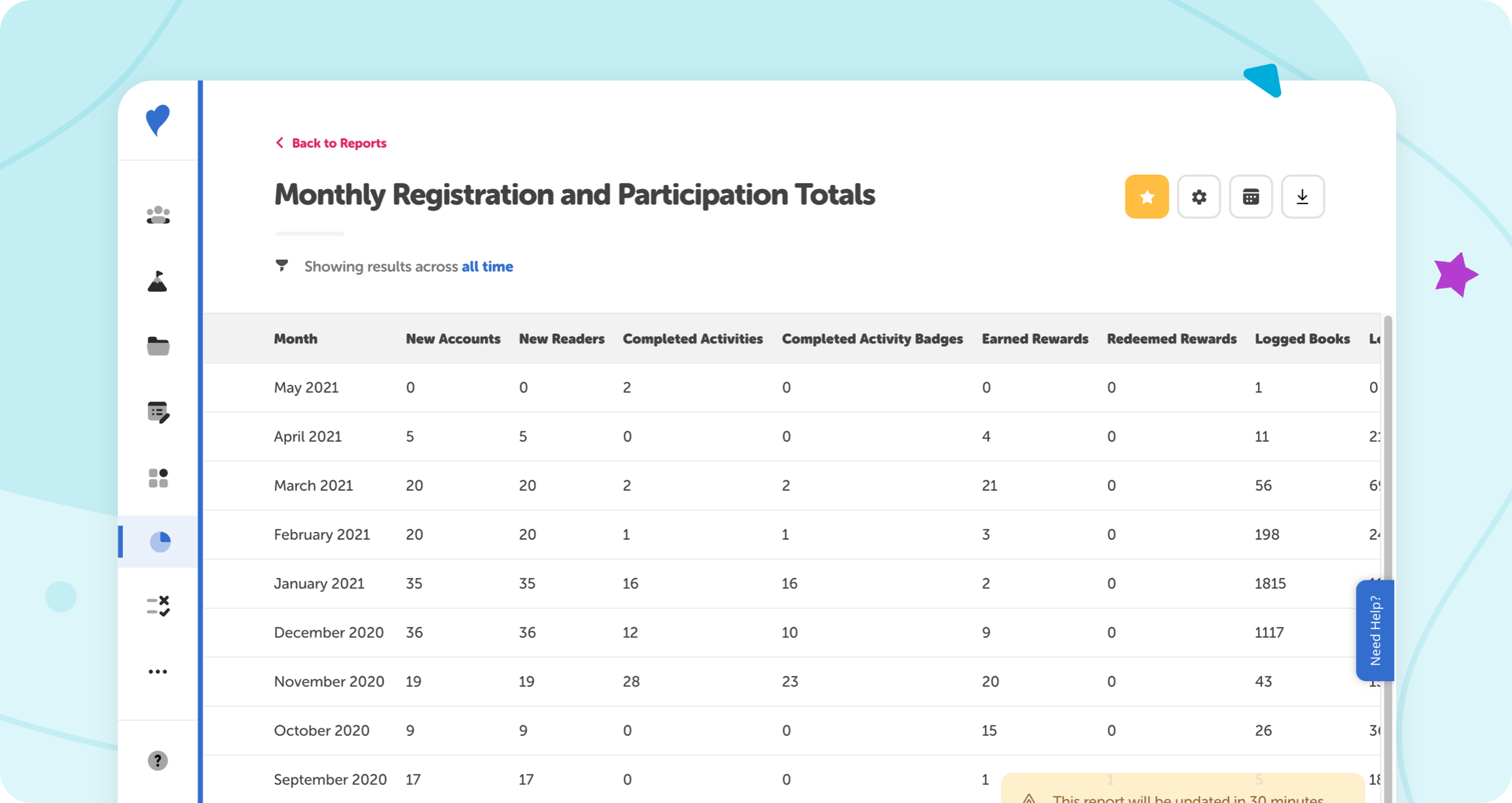 Same Functionality, New Look
The most noticeable change to Beanstack reports is the new user interface. We've replaced the existing lists of reports with new report "cards" that make it easier to scan a group of reports to identify what you need. This update also brings reports up to date with recent improvements to the overall look and feel of the Beanstack web app for both administrators and end users.
All existing functionality, like the ability to schedule a report to be delivered to your inbox anytime, is still available. Admins can continue to favorite reports, filter report columns, and limit reports by dates. We removed the existing report "tags" (which many librarians told us they never used) and enhanced the reports search tool (which many librarians told us they use frequently) to search all report names and descriptions.
Connect with Us
If you're an educator or librarian who wants to learn more about how Beanstack can help your school or community achieve its literacy goals—while gaining valuable data-driven insights—we'd love to hear from you. Drop us a note at beanstack.com/contact.