We're thrilled to announce the launch of reading validation challenges for all our Beanstack school and school district clients. Reading validation challenges help educators uphold reading integrity while keeping the reading and logging process fun and easy for students of all ages. By displaying simple reading comprehension questions directly to readers in Beanstack, educators can verify that their classes actually did their reading and students can feel confident and motivated to keep reading.

Ensure Reading Accountability and Accuracy
Educators around the world use Beanstack to motivate students and build a culture of reading in their school communities. But like with any independent reading system, some teachers and administrators struggle to verify students' self-reported reading logs.
"It's possible for students to inflate any kind of reading log, whether a school uses paper logs, quiz-based assessments, or reading challenges," says product manager Kelly Hiser. "While our research found that incidents of over-reported logging are relatively rare in Beanstack, it can happen. We want to give educators all the tools we can to confirm and gain confidence in their students' reading."
As part of our commitment to reading integrity, Beanstack already facilitates custom reading session warnings and limits for school logging. These optional reading integrity tools require students to confirm that big additions to their reading log are true and accurate, and they give educators an easy way to view flagged reading. When students have a questionable logging history, a simple check-in is often all it takes to direct them toward honest logging practices—but educators may lack the time and resources to monitor and connect with students about their reading logs.
"Some of our media specialists don't have time to intervene with individual students and check their reading logs," says senior school success manager Elizabeth Ross. "These new validation tools essentially automate the validation process for educators, giving them more confidence that student reading logs are accurate."
Reading validation cuts out the effort of individual student check-ins and replaces them with pre-set comprehension questions. Students who did the reading will breeze through the answers, while students who didn't are encouraged to pick up their book and read with friendly messaging and another chance to answer correctly. School administrators and teachers can see student answers at any time to more easily encourage students to develop healthy reading habits.

How Reading Validation Challenges Work
Administrators can pick from hundreds of titles scoped by age group for their reading validation challenges or use a ready-made reading validation challenge template. Whether your high schoolers are assigned classics like "The Great Gatsby" by F. Scott Fitzgerald, your elementary students are tearing through popular series like "The Series of Unfortunate Events" by Lemony Snicket, or your middle school is reading diverse narratives like "Brown Girl Dreaming" by Jacqueline Woodson, there are options for every grade and class within our list of 2,000+ question-enabled titles.

We partnered with ed-tech startup Whooo's Reading to use their simple and straightforward reading validation questions. With up to three fill-in-the-blank statements displayed per title, the questions verify basic comprehension by asking about main characters or plot points, like "The children went to Narnia in a magic ________" or "The poems are about Odysseus, the king of Ithaca, who wanders for 10 years trying to get home after the ______ War."

When students log a question-enabled title as complete, the verification questions display before they can add the book to their reading log. Students must answer at least 50% of the questions correctly to check off the title as complete. Our reading validation system harnesses Whooo's Reading's AI to recognize common variations and misspellings, so students still get credit for typos and synonyms.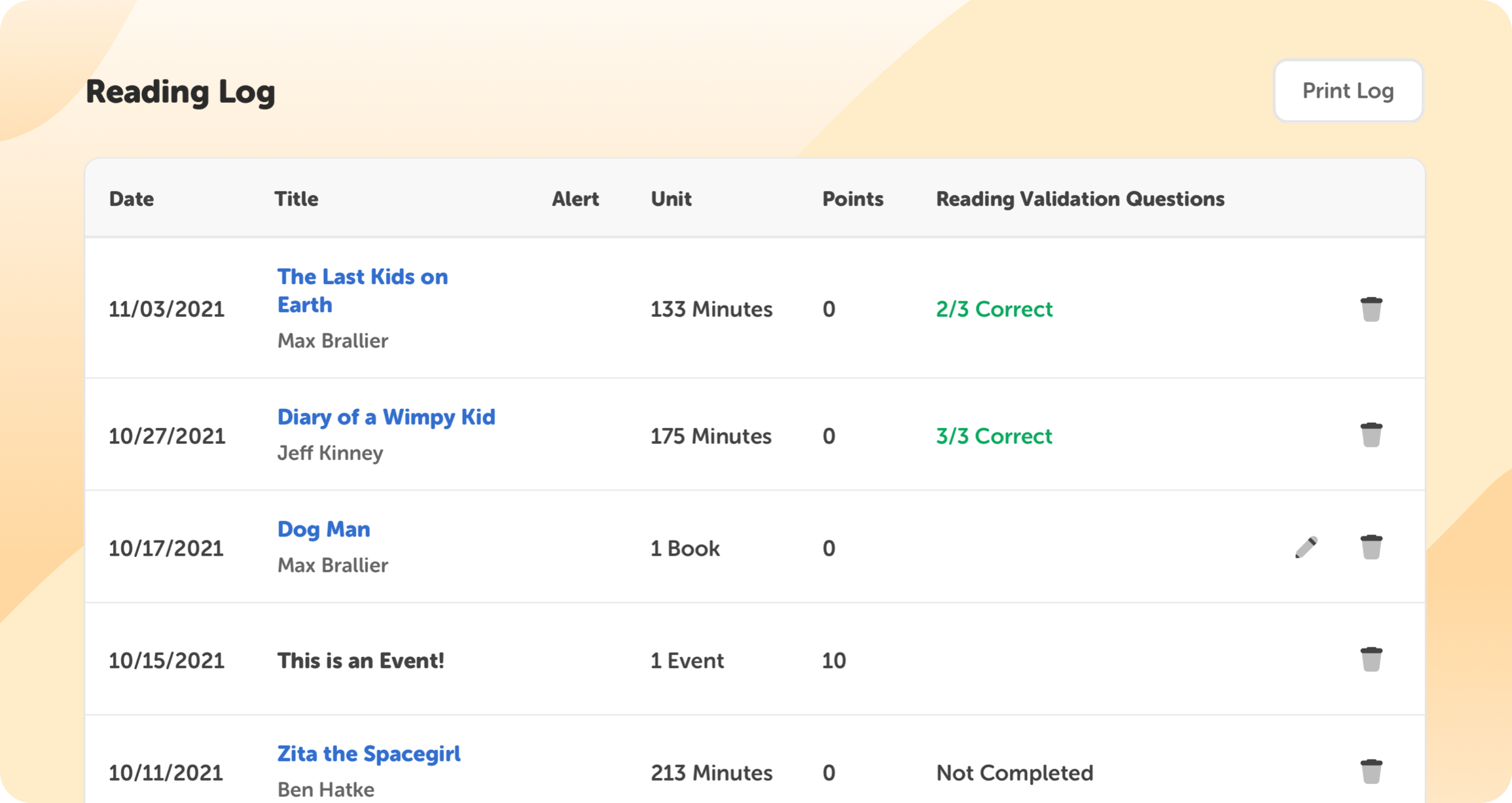 If a student doesn't answer 50% of the questions correctly on their first try, they can try again! We believe in empowering students to rise to the occasion, so we don't create stress with limited answer attempts or lock-outs. But we also don't ever display which answers are correct or incorrect when students don't pass, so they can't game the system. And once a student successfully completes a question-enabled title, they get a badge and their teachers or school administrators can check out their response details right in Beanstack's admin dashboard.
Get Started Today
Reading validation challenges strike a balance between confirming self-reported student reading and keeping the reading process fun and enjoyable. By kindly encouraging students to self-correct, these challenges reduce over-reported reading logs with less time and effort. And all the visibility tools built into reading validation challenges empower educators with actionable information and confidence in their students' results.
Reach out to your school success manager today to get started with your first reading validation challenge or to plan one for next school year! Not yet a Beanstack client? Contact us today and we can help with any questions you may have.