Welcome back to the Product Spotlight series in the Beanstack Blog! Here, you'll find news about our latest features and insights into how Beanstack's tools can help you achieve your reading goals. Whether you're already using Beanstack, or you're looking to build a culture of reading in your community—this series is for you.
Announcing: Beanstack Reading Fundraisers
After the successful launch of reading fundraisers for our school clients in the fall of 2021, reading fundraisers are now available to all public library clients. This new tool empowers Beanstack partners to harness community reading to raise donations through readathons.
Reading fundraisers help raise more money for your library or school with less work and zero inventory. And with Beanstack reading fundraisers, you keep up to 90% of what you raise, while building an inclusive culture of reading.
Beanstack Reading Fundraisers, Defined
A reading fundraiser in Beanstack is a lot like a reading challenge—it's a time-bound challenge to your community to read as much as possible—but it's also a challenge to raise as much money as possible. Readers earn badges for raising donations, logging their reading, and completing activities. Plus, we've built an extensive set of tools that make it easy for readers and administrators to promote the fundraiser to family, friends, and the entire community.
Great Experiences on Any Device
Our team built Beanstack Reading Fundraisers—like every feature in Beanstack—to work beautifully on devices of all sizes, so that readers and donors will have a great experience whether they're using a school-issued laptop, a smartphone, or a desktop computer.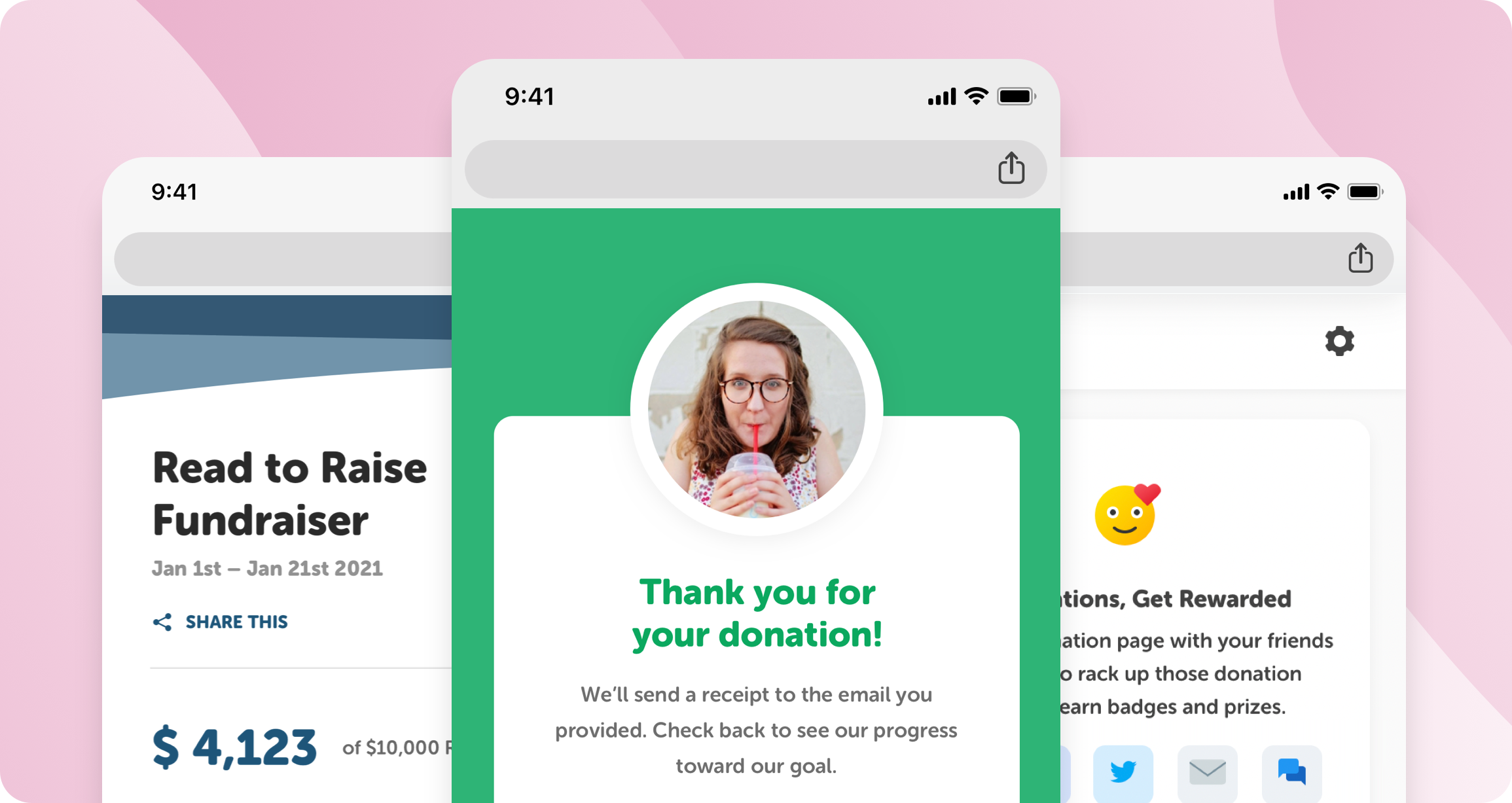 Readers can log reading and track their progress in either the Beanstack web or mobile app. And because our community and reader donation forms are fully responsive, you can be confident that your reading fundraiser meets family and community members where they are, even if their only device is a smartphone.
The Administrator Experience
It's easy and fast to set up a reading fundraiser. Our fundraiser templates come with tons of custom badges, activities, and prizes that you can use as is for a turnkey solution or customize to meet your community's specific needs. Publish your fundraiser in just a few clicks and start getting ready to read and raise!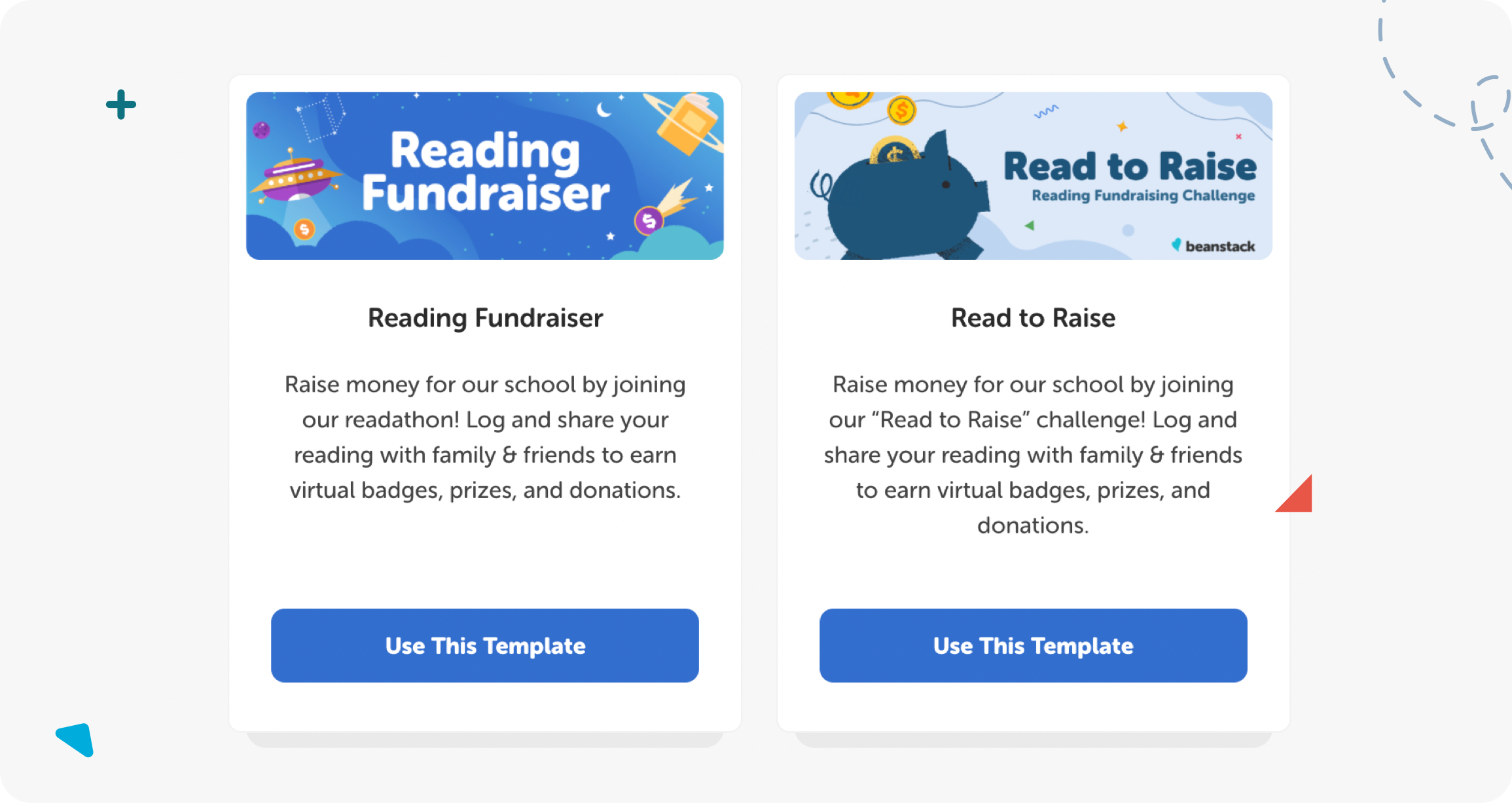 Once you save and publish a new fundraiser, you'll find all the information and promotional materials you need in your reading fundraiser dashboard. There, you can download and customize templates for print and digital flyers, social media, and marketing messages. We also give you helpful best practices for promoting your fundraiser and getting sponsors to boost your success.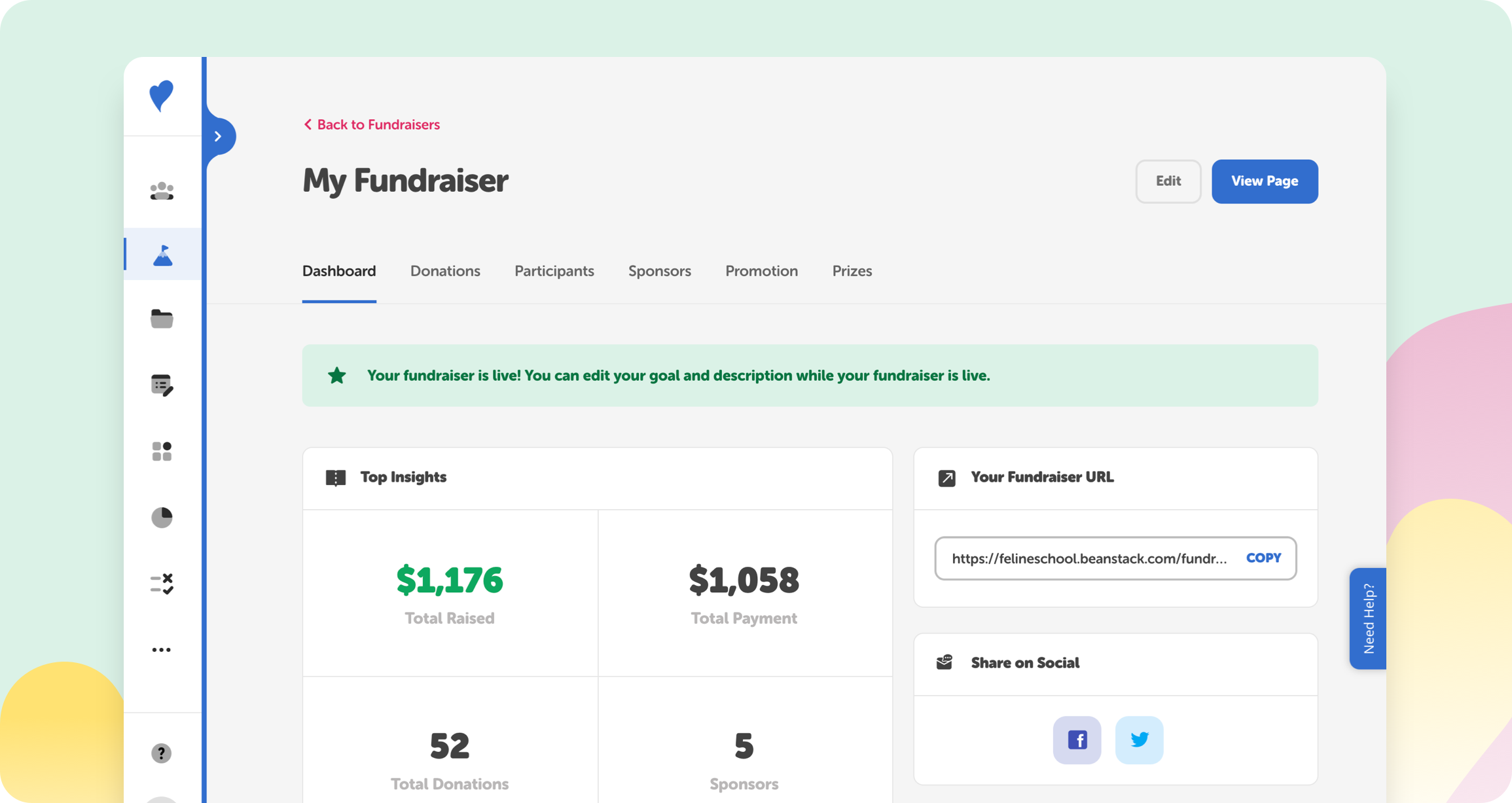 While your fundraiser is running, your dashboard keeps key stats right at your fingertips, from your top readers and raisers to your daily donation total. Easily view donation and participation details, award prizes to readers, and manage all aspects of your fundraiser directly from the dashboard. When it's over, we'll mail you a single check, so all you have to do is celebrate.
The Reader Experience
Everyone with a reader account in your Beanstack site can participate in reading fundraisers. Library community members can preview and pre-register for your fundraiser as soon as it's published; students and teachers are automatically enrolled in your fundraiser the day it starts. And each participant has their own individual donation page where family and friends can donate and leave encouraging messages. Plus, donors can see how much the reader has raised and their latest books read and badges earned, making it a fun way for donors to connect with readers.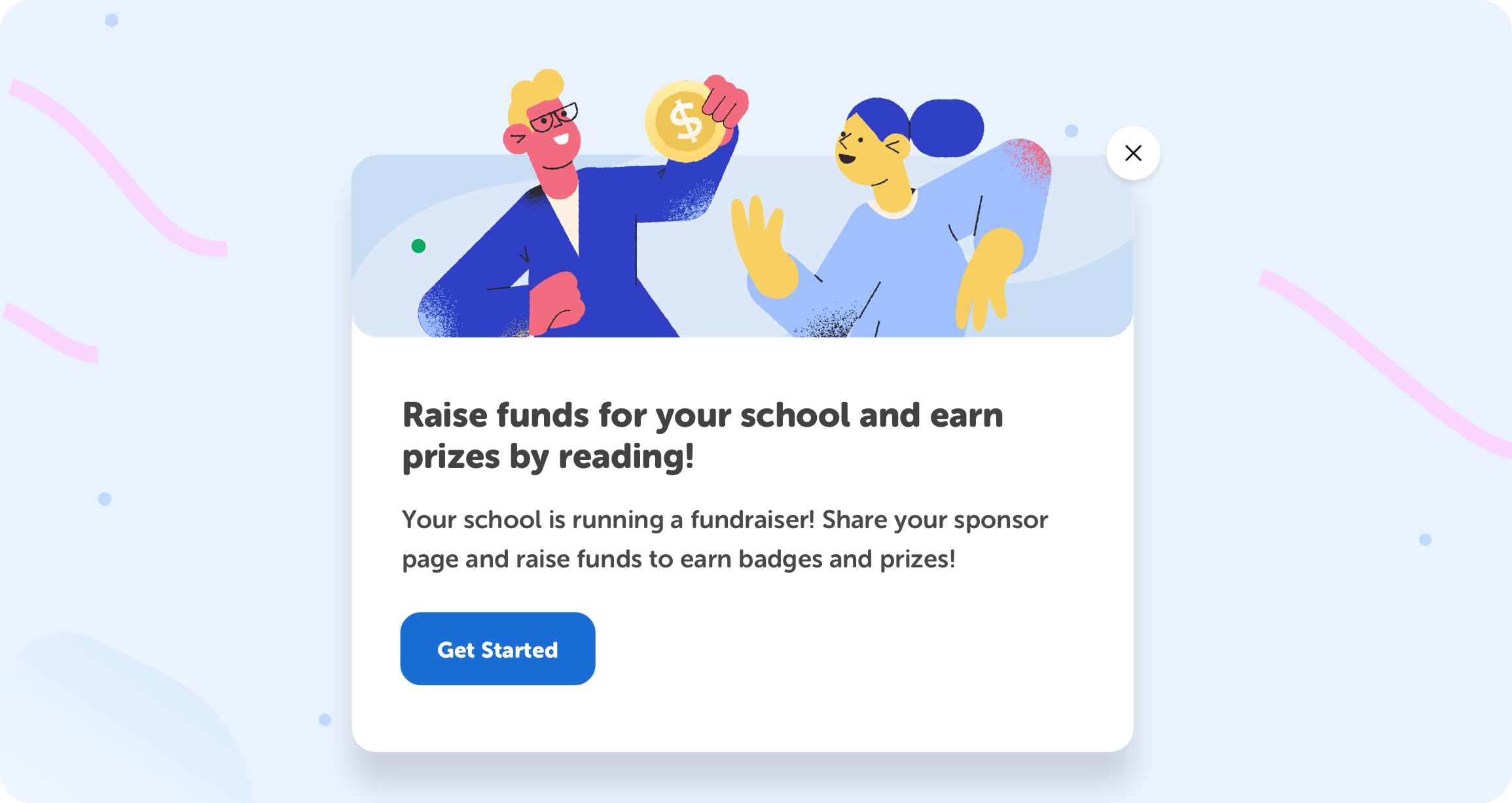 Beanstack puts the fundraiser experience front and center for readers, so they can't miss it! Plus, we've made it super easy for readers and their families and friends to share their donation pages via email and social media.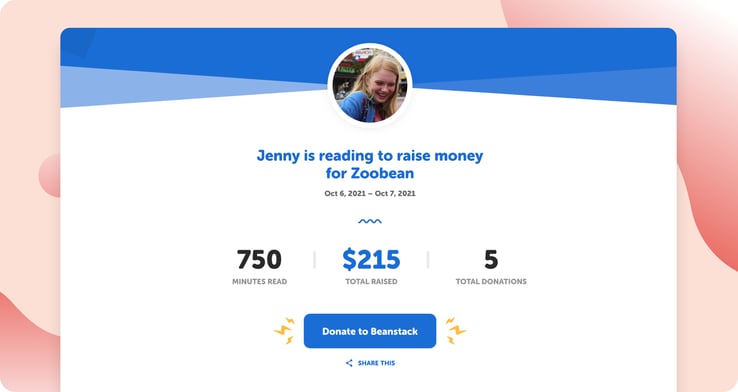 Readers log their reading just like they would for any Beanstack reading challenge, and Beanstack automatically tracks donations made to readers and awards them reading and donation badges. Don't be surprised if your readers report checking their donation pages regularly, and promoting them heavily—it's exciting to watch the numbers grow!
The Donor Experience
Donating via a reader donation page is easy and secure. The Beanstack team sent our donation tool through a rigorous testing process with donors of all ages, technical savviness, and backgrounds. So, you can be sure that everyone, from children and seniors to users with disabilities, will have a smooth and seamless donation experience. And for those who can't or would rather not donate online, Beanstack administrators can add cash or check donations to count toward individual readers and your fundraising total that are exempt from our processing fees.
The donation model is simple too—donors give a lump sum rather than pledge a certain amount per time read—but not for simplicity's sake alone. Our research showed that a straightforward, pay upfront model encourages donors to give more. One school reading fundraiser we studied raised 50% more when they switched from a "dollars for minutes" model to the simple model we adopted.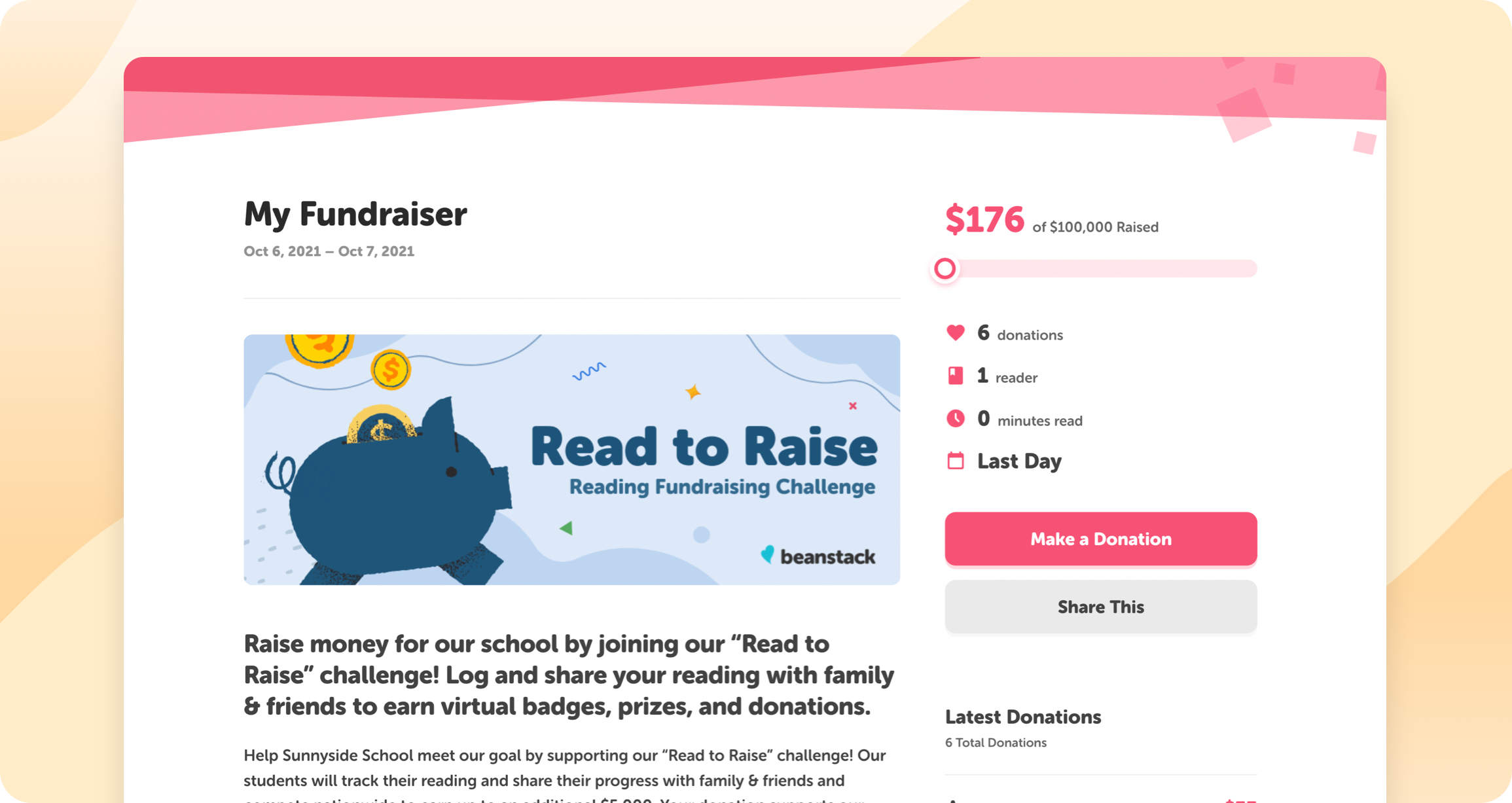 Your fundraiser includes a community donation page to share widely, including with local business sponsors, so that everyone in the community can donate. This page is designed to keep donors and readers coming back for more. Here, your community can see your progress toward your donation goal as well as messages from donors and a list of recent books readers have logged. Business sponsors can directly share information to be featured on your fundraiser page, including a website link and logo.
Getting Started
Ready to build community engagement while raising money for your library? Contact your client success manager today or watch our recent BeanstackEDU Presents: Introducing Reading Fundraisers for Libraries webinar.
Not a Beanstack partner yet, but want to run a reading fundraiser? Reach out today!