Welcome back to the Product Spotlight series in the Beanstack Blog! Here, you'll find news about our latest features and insights into how Beanstack's tools can help you achieve your reading goals. Whether you're already using Beanstack or you're looking to build a culture of reading in your community—this series is for you.
Keep reading to discover Beanstack's amazing new addition: Lexile Insights for Teachers. This feature empowers educators with actionable data on student free-choice reading and allows them to make informed decisions and drive academic success.

Track and Encourage Student Reading Growth
Beanstack's Lexile Insights for Teachers offers a holistic approach to understanding and supporting students' free-choice reading. This new feature empowers teachers with actionable data and insights to help their students become confident and engaged readers. With a personalized approach to instruction and recommendations, students can unlock their full reading potential and embark on a lifelong journey of learning and exploration.
This powerful tool goes beyond just tracking reading progress. By analyzing the Lexile levels of recently logged books, teachers gain important information about the reading choices of their students. This allows them to easily identify patterns and trends in their students' reading habits, such as whether students consistently challenge themselves by reading books with higher Lexile levels or if they confine themselves to a certain range. Armed with this information, teachers can tailor their instruction and reading assignments to meet the individual needs of each student.
Unlock the Power of Enhanced Reader Logs
Within a student's individual reading logs, teachers can find the average Lexile level of the student's last three logged books along with the specific titles that contribute to that average. Additionally, teachers can view a chart that displays the average Lexile level of the titles logged by a student each week and track the student's progress over time. Each title in a student's reading log also includes its corresponding Lexile level, if this information is available.
With over 327,000 titles enriched with Lexile data in Beanstack, teachers have access to an extensive selection of books to draw insights from. These Lexile levels have been associated with titles in student logs dating back to August 1, 2022. However, logged titles without a Lexile level will not be considered when calculating a student's Lexile averages. Finally, it is important to note that these insights are only available to teachers and administrators. To continue encouraging free-choice reading, students cannot view the Lexile levels associated with the books they log.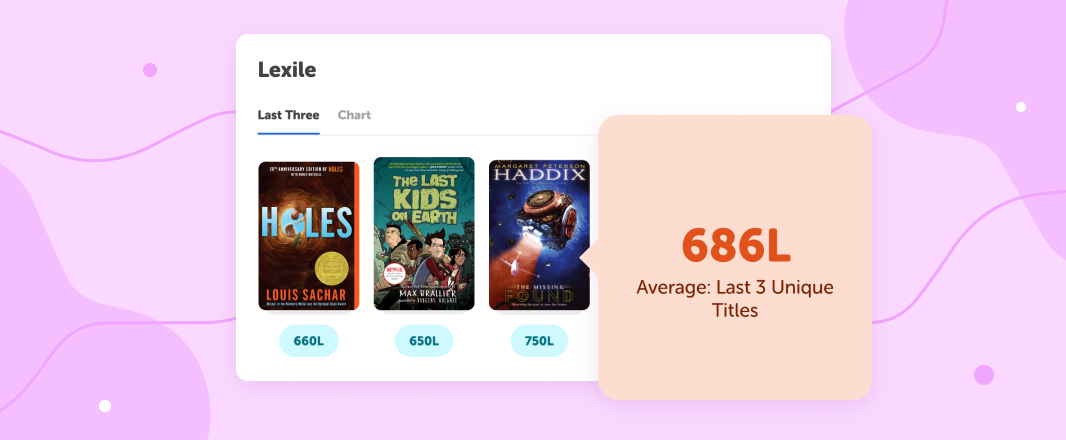 Gain Key Insights About Students' Independent Reading Abilities
Beanstack's Lexile Insights for Teachers is a one-of-a-kind tool that provides teachers with a valuable glimpse into the independent reading choices of students. By analyzing the data extracted from student reading logs, teachers can build a comprehensive understanding of each student's reading aptitude. These insights not only assist but also empower teachers in offering personalized book recommendations that encourage a love of reading. Additionally, these valuable insights can be effectively shared during parent-teacher conferences to support and provide a deeper understanding of each student's reading growth.
Get Started Today
All existing Beanstack for Schools partners with Plus or Premium packages now have access to the powerful new Lexile Insights experience on their district sites. Not a client, but looking to consolidate your school district's reading motivation and tracking tools into one easy, quiz-free platform and get access to valuable reading insights? Get in touch today for a demo and pricing information or to upgrade your package!