More than a cozy nook with colorful books on the shelf, classroom libraries can encourage independent reading habits, and in turn, improve reading comprehension and increase vocabulary. Research shows that students with easy access to engaging books see greater benefits in reading achievement overall. Yet, when hundreds of books sit unorganized in your classroom, it can quickly create a sense of overwhelm. That's why an organized classroom library system is so important. Here's a closer look at why you should organize your library and how you can do so in a way that makes sense.

Why are Classroom Libraries Important?
Classroom libraries play an active role in literacy development and academic achievement, offering many benefits to students. One way to amplify those benefits? Create a reading environment that makes it simple for students to access books. In doing so, students are compelled to read more, and more often. Classroom library organization is one of the best ways to improve accessibility and inspire interaction between your students and the books on your shelves.
While your classroom library doesn't need to mirror a particular organizational structure, it does require some planning. Keeping a classroom library organized isn't always easy, but the payoff is worthwhile. From seeing kids reading more to encouraging them to branch out into new styles and genres, here are a few reasons why cultivating classroom libraries is a smart move.
Improves Literacy Levels and Academic Outcomes
According to Scholastic, "Students who have immediate and ongoing access to engaging books in their classrooms exhibit higher reading achievement, better comprehension, and an increased vocabulary." These are all academic outcomes worth embracing and an awesome advantage of an organized library. While the benefits of reading for students are known, those benefits only occur when your students actually spend time reading. Providing an organized classroom library allows students to engage with the available reading material more readily. They can find interesting titles more quickly and spend more time reading, with less time searching.
Strengthens

Independent Reading Habits
Sometimes, students shy away from reading because they can't find something to read that they connect with or enjoy. Reading for fun and building strong independent reading habits are two important skills that boost future academic success. With an organized library, your students can more easily browse books to find something they want to read.
Ensures Equal Access to Books
When books are accessible, literacy skills and academic motivation increase. For families that may not have books in the home, classroom libraries are an important resource that ensures students have what they need to succeed. Overall, classroom libraries provide equal access to books for all students.
Enriches Classroom Curriculum
One of the fastest ways to enhance classroom curriculum is to provide supplementary reading material on the topic or lesson being covered. If students are learning about frogs in science, they can grab a book about frogs from the shelf and dive in deeper. If your history curriculum explores Medieval times, you can provide different genres of books that occur during that time period. Having a wide range of topics, authors, and genres in rotation and an organized system to keep track of them will help.
Supports Reading Instruction for All Students
Finally, these benefits work together to enhance reading instruction. A well-organized library filled with a collection of a wide range of reading materials at different reading levels allows a teacher to match students to books that fit their interests and reading ability. This, in turn, reinforces the concepts taught in the classroom and increases learning for all.
Five Tips to Organize a Classroom Library
To enjoy the benefits of an organized library, you need the right strategy. Here are five steps to take to get your classroom library well organized.
1. Plan Your Space
First, plan your space. Where will you put your library? How much room do you have? Will your entire library fit, or will you need to rotate books throughout the year? After you locate your space, consider if you need additional shelving, bins, or storage materials. Then, start shopping. It is a great idea to check out garage sales, online marketplaces, and thrift stores to find the materials you need.
Finally, add some cozy seating. While this doesn't help with organization, it does help with student engagement and encourages students to spend time in the library.
2. Organize Classroom Library Books
Next, plan how you will organize your classroom library books. The best way to organize classroom library materials will not be the same for every classroom. Think about your students and their abilities, and identify the library system that makes the most sense. There are several ways you can organize books, including:
Genre
Theme or subject matter
Author last name
Title
Series or character
Fiction or nonfiction
Featured or seasonal titles
Reading level
You might need to use multiple organizational strategies. For instance, divide books by genre, then organize them by author's last name or title within each genre. Or, consider having a section featuring books that support the current curriculum focus. This makes it easier for students to explore the subject matter they're studying. To inspire readers to step outside of their comfort zone, highlight teacher's book recommendations or student picks!
You'll also want to consider the age of your students. For younger kids in an elementary classroom, a book basket system with bin labels or pictures of the characters will likely work best. With older students, organizing books in some sort of alphabetical order and by genre with a shelf-label system will work well.
If your library includes leveled library books, avoid the temptation to organize just by level. While you can have a section of leveled books to help students with their independent choices, you'll want to have areas where they can self-select without the pressure of the levels. This will keep readers from being discouraged from selecting a book just because it is not their recommended level. It will also allow more advanced readers the freedom to choose books that are of interest to them, no matter the level.
3. Keep Books Labeled
Use color-coded spines, label stickers, or a numbering system to keep books organized so they're easy to re-shelve in the correct area. If your students are younger, you can use bins that coordinate with the sticker or label to make it simple to put the books back after reading time. Occasionally, check the library and use your labels to put everything in its proper place. Or, to get your students more involved and have a sense of ownership, assign a "student librarian" to help keep your shelves tidy.
4. Label Shelves or Sections
Labeling doesn't apply just to the book spines. Shelves or sections of your classroom library can be labeled as well so students can quickly find the type of book they want to read. Again, choose a system that makes sense to the types of books in your library–this is important in making sure the entire library is accessible to all readers.
5. Use Classroom Library Organization Tools
Once you have your library space planned along with books and shelving all labeled, set up an inventory process. Having a procedure in place for students to check out books to take home will encourage independent reading outside of school. To manage your classroom library, utilize a checkout binder, or to streamline it, go digital. No matter the method you choose, you'll want to keep track of where your books are so you can get them back before the end of the year.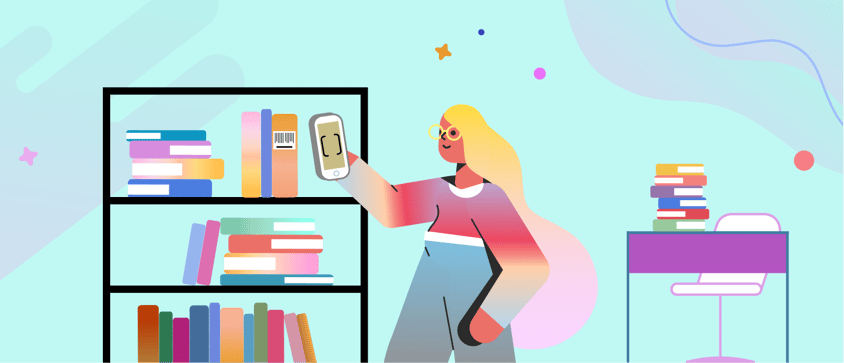 How Beanstack Helps Organize Classroom Libraries
Beanstack has several tools to help teachers organize their classroom libraries, amplify books available to students, and encourage them to read more.
Classroom Library Connector
The Classroom Library Connector gives teachers access to a state-of-the-art ISBN scanner to efficiently create and maintain a digital database or catalog of the books in their classroom library. Once all books are scanned, using reading list challenges, you can group them similarly to how they are organized in your physical classroom. The Classroom Library Connector saves teachers and media specialists time and increases student engagement with books.
Benefits for Students
With the Classroom Library Connector, students can easily see the books available to them in your library or any classroom they are rostered to. If they are searching for a specific title, students can quickly check on their Beanstack account for availability with this tool as well. Additionally, students can find a book to use for classroom reading challenges. The Classroom Library Connector allows you to create reading list challenges utilizing your classroom library books.
Plus, Beanstack's fun reading approach features gamification software that uses positive reinforcement to transform readers' extrinsic motivation to read into intrinsic motivation, creating true and sustained reading engagement.
Benefits for Teachers
The Classroom Library Connector allows educators to quickly add titles to their digital library. Use any mobile device to take advantage of the ISBN scanner, bulk import titles from an existing CSV file, or search Beanstack's database for titles and manually input them. With help from Beanstack, tracking inventory becomes a breeze. To add a new book, just scan it, log it, label it, and shelve it.
Benefits for School Librarians and Media Specialists
Often, media specialists are knowledgeable about using a tool like this in the library, so they can provide invaluable support. When they're working with teachers, they can use the Classroom Library Connector to help them organize their classroom library catalogs and create reading lists for specific teachers to drive school library use. Additionally, when they're working with a student in the library, they can recommend titles that are available in the student's classroom.
Request a Demo of Beanstack Today
Curious to see how the Classroom Library Connector tool can help your school organize classroom library materials and increase reading engagement? Contact us today and schedule a demo, or request a quote, for our innovative platform.