The holidays are a wonderful time for reconnecting with family & friends while enjoying old traditions and creating new ones. This year, we bring you "Holidays Around the World," a reading challenge available on Beanstack and Beanbright during the month of December. Below, you'll find recommended books & activities for all ages to help educate and celebrate. Now grab a blanket, a book, and get cozy! Log your reading to earn badges all month long. Cheers!
Christmas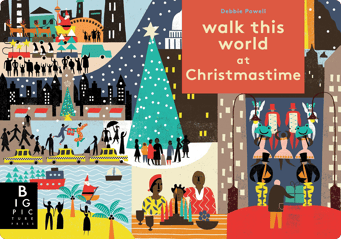 Elementary
Walk This World at Christmastime - Cozy and bright, this picture book walks you around the world to find people of all cultures celebrating Christmas (and other holidays!) This book is a perfect pick for little ones starting to widen their understanding of the world.
A Piñata in a Pine Tree: A Latino Twelve Days of Christmas - A tasty twist on the traditional Twelve Days of Christmas, this book will have you singing along, learning Spanish words, and cultural Latino traditions!
A Wish to be a Christmas Tree - A seasonal favorite in our house. A too-tall tree is sad when he is passed over year after year during annual visits to the tree farm. But his woodland friends team up with a festive remedy to remind him of his special role at Christmas, no matter the setting.
Middle grade
The Stars Beneath Our Feet - How will Christmas look while in the trenches of grief, adolescence, and change? For twelve-year-old Lolly, a special gift changes everything on his journey back to connect with the world.
The Vanderbeekers of 141st Street - A classic in the making, this is the story of a close-knit family who won't take no for an answer. The Vanderbeekers will not lose their New York City home if they have any say in it . A story of teamwork, community, and determination during Christmastime. This one can't be missed.
YA
The Afterlife of Holly Chase - A Christmas Carol gets an update in this beyond the grave tale. A little romance and quirkiness will have you cheering on the Ghost of Christmas Past.
Adult
Seven Days of Us - It's hard to imagine a more perfect year to read this one. Family drama bubbles to the surface when a family must spend one week quarantined together at Christmas.
Christmas Activities
Create a Christmas playlist that speaks to the memories, feelings, and vibes that Christmas gives you.
Trim your tree, mantle, or even bookshelf with this adorable

DIY pom pom garland

.
Keeping your distance this year? Sing traditional

Christmas carols

virtually to those you love.
Hanukkah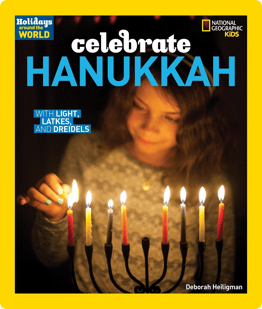 Elementary
Holidays Around the World: Celebrate Hanukkah: With Light, Latkes, and Dreidels - This nonfiction book is a must for children learning about Hanukkah. Filled with colorful photographs and simple text, children (and many adults!) will learn the basics of this special holiday from Jewish history to seasonal traditions.
Hanukkah Bear - Cute, silly, and full of references to Hanukkah, this book will delight your family. Join Bubba Brayna and the bear as they mistakenly celebrate together and indulge in some delicious latkes and games.
A Hanukkah with Mazel - Misha finds Mazel one morning in his barn. A man with little to give and no company to surround him, Misha is delighted to have Mazel to help him celebrate Hanukkah. Simplify your Hanukkah festivities with this sweet story.
Middle Grade
Dreidels on the Brain - Travel back to 1971 with young Joel and help him navigate his familial woes and hopes of belonging. Adolescence is tough enough, but being the only Jew at school and being asked to teach others about Hanukkah only makes it harder. Except life rarely turns out the way you expect.
YA
Recommended for You - Problems abound for Shoshana as the holidays approach - her mothers are relentlessly arguing, she's short on cash, and her car needs repairs. She could definitely use the bonus offered to the top seller at her bookstore job, but first she has to take down the kind of cute and also Jewish, Jake Kaplan.
Adult
The Art of Blessing the Day: Poems with a Jewish Theme - Although not specifically about Hanukkah, this collection of poetry begs the mind to stop, savor, and observe. Reflections on family, Jewish tradition, and memories, this book will ask to be read again and again.
Hanukkah Activities
Let's play the dreidel game! Check

here

for instructions for this traditional Jewish game.
Make your own menorah! Get inspired

here

.
Hanukkah is the festival of lights! Take a neighborhood walk or nighttime drive to count any and all lights.
Kwanzaa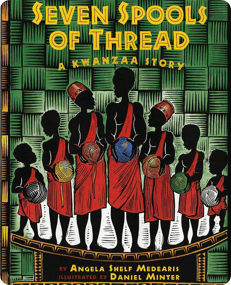 Elementary
Seven Spools of Thread: A Kwanzaa Story - Family squabbles turn into lessons in perseverance and teamwork using the seven principles of Kwanzaa in this gorgeous block print picture book.
Together for Kwanzaa - Unexpected bad weather threatens a family's beloved Kwanzaa traditions. Will Khari find a way to get home in time to celebrate?
Li'l Rabbit's Kwanzaa - Li'l Rabbit is sad when he's supposed to be celebrating! Granna Rabbit is sick and now they won't be able to have their traditional Kwanzaa feast, Karamu. But Li'l Rabbit isn't going to let the family's Kwanzaa celebration slip away. He is going to help and finds many other helpers along the way!
Middle Grade
A Story of Kwanzaa: First Fruits: How the Kwanzaa Festival Began - This would be a great introduction to Kwanzaa for older students unfamiliar with the holiday. Dive into the holiday traditions and guiding principles that help anchor this beautiful holiday in African culture.
YA
Watch Us Rise - Although this isn't a Kwanzaa book, I loved the way The Hub organized this book list around the seven principles of Kwanzaa. The first principle is unity, which our world needs now more than ever. In this book, authors Watson and Hagan take readers on a journey of female empowerment from a teen perspective. Join friends Chelsea and Jasmine as they unite to take on the stereotypes and misrepresentations of girls that have been going on far too long.
Adult
The Kwanzaa Brunch: A Holiday Novella - Sienna is looking for change and Booker is looking for a fresh start. What if they found both in each other? Set amongst the backdrop of a Kwanzaa celebration in Atlanta, check out this fresh perspective in modern romance.
Kwanzaa Activities
Find out how to make a Kwanzaa flag here!
Learn about the seven core principles of Kwanzaa here and try to draw them yourself. Reflect on the meaning and importance of each in our world.
Looking to make something different this holiday season? Try one of these traditional Kwanzaa recipes.
Winter Solstice

Elementary
The Shortest Day - Lyrically written and quietly illustrated, this text takes us on a journey of human civilization and our anticipatory response to each solstice, one in summer and the other in winter. Put this on your TBR list this December.
The Shortest Day: Celebrating the Winter Solstice - A beautiful (and different!) solstice book by the same title. Amazing astronomy and historical depictions abound under the guise of a simple story about the winter solstice in this incredible picture book. Learn the science and stories behind the solstice, along with some pretty cool experiments and activities available in the back of the book.
The Solstice Badger - An intriguing myth brings the solstice to light in a new way. Once the Sun finally finds a friend who can get close to him, he neglects his other job of shining light and warmth over the Earth. But everyone depends on him - when will he return?
Middle Grade
Breadcrumbs - During the coldest of days, Hazel loses her best friend Jack to a celestial snow queen. Devastated but determined, Hazel goes through the frigid Minnesota woods to solve Jack's heartbreaking disappearance. A mix of fantasy and fairytale this book will enchant you all the way through.
YA
Shiver - Grace is enamored by the wolves' out the window each winter. When Sam shows up, Grace knows her intuition is right and he must be the wolf that has been watching her too. A story of romance, trials, and determination, Grace and Sam must find a way to stop Sam's impending shift from boy to beast.
Adult
The Return of the Light - Nothing unites us like our annual dance around the sun.. A compilation of stories around the world, this diverse text exemplifies historical and spiritual stories centered around our return to light and commitment to renewal.
Winter Solstice Activities
Check the time of sunset on (or around) the winter solstice this year. Watch the sunset together and make plans for longer days coming.
Make your own winter solstice lanterns. Check out the how-to

here

.
Burn a

yule log

for the winter solstice. Roast s'mores together or share stories while lighting up the dark winter sky, celebrating the sun's significance in our lives.