At the beginning of each school year, Beanstack compiles data from summer reading programs (SRPs) at public libraries across the country to look for new trends in summer reading. We want to know what inspires students to read during their free months, so we can better support librarians, teachers, and administrators in the fight against summer learning loss.
This year, the data was abundantly clear: the future of reading challenges is mobile. In this post, we'll share our insights, which show that offering a mobile app for summer reading boosts participation and is an increasingly popular option for SRP enrollees.
Mobile App for Summer Reading Sees Steady Growth Since 2018
Since its introduction in 2018, interest in our mobile app for summer reading has grown significantly among SRP enrollees.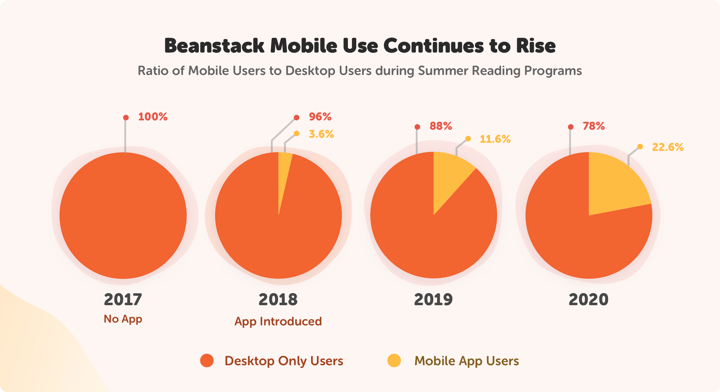 In 2018 (the debut year for the app) only 3.6% of Beanstack users opted to use the mobile app in addition to our traditional desktop platform. Since then, the app has doubled in popularity each year, with 11% of enrollees logging on mobile in 2019 and a record-breaking 22% opting for mobile in 2020. That means that during the COVID shutdown, nearly one-quarter of all readers were choosing to log their reading on mobile.

Furthermore, our data show that, once users download the app, they are very likely to use only the app to participate in their SRP. While all mobile users still have full access to the desktop app, three out of four app users (74.8%) opt not to use desktop at all, and log exclusively through the mobile app. Combo users, who logged both by mobile and by desktop, were the minority (25.2%). While each family's needs (and access to devices) differ, the app clearly functions as an all-in-one solution for most patrons who try it.
When we introduced the Beanstack mobile app in 2018, we had no idea that 2020 would bring a year of virtual schooling that would increase student access to mobile devices across the nation. Obviously, access is a contributing factor in students' choice to go mobile. But as it turns out, going mobile isn't just about personal preference – it also has a remarkable impact on engagement.
Mobile Users Are More Engaged
The ongoing challenge for all libraries goes beyond getting users to sign up for SRPs – it's encouraging them to take the next step and log their reading.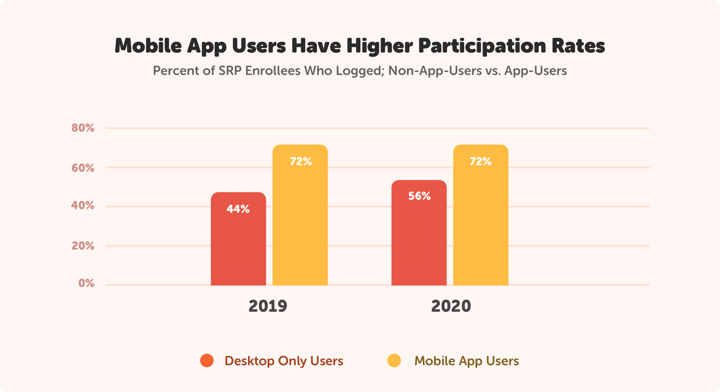 Our 2020 Insights show that mobile app users have significantly higher participation rates than non-app users. In our analysis, we consider any user that logs reading an Active Participant. While our studies show that only about 50% of desktop users become Active Participants during their summer reading challenge, about 75% of mobile users become Active Participants. That means that simply by using the mobile app, enrollees significantly increase their likelihood of participating in an SRP.
As it turns out, it pays to have your reading challenge in the palm of your hand. Encouraging readers to use a mobile app is a simple and effective method likely to increase enrollee participation.
The Future Is Mobile
It's our mission to find the best methods to support student literacy. This year, our data was clear: mobile apps are the future of summer reading.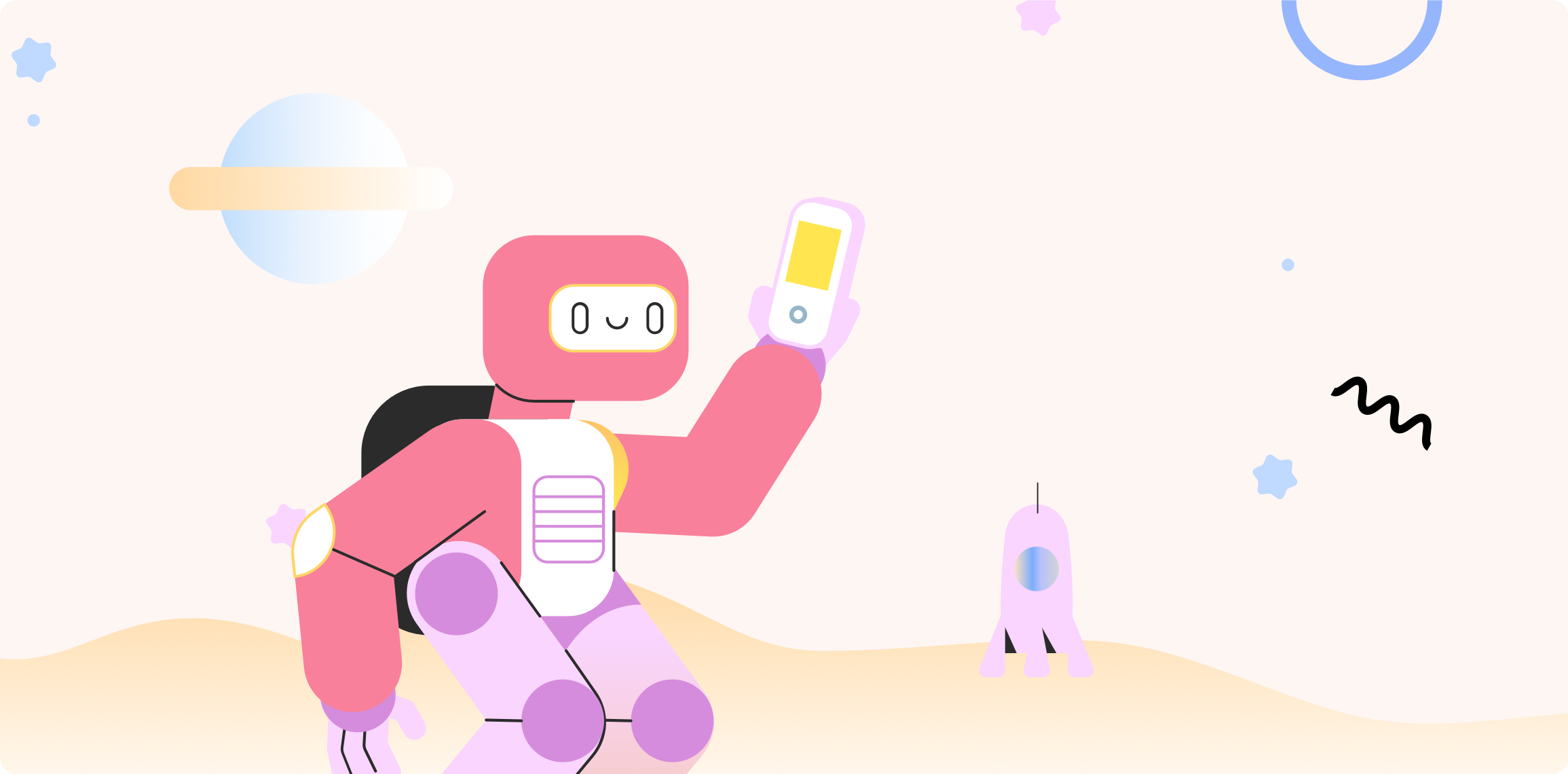 Luckily, Beanstack already has the tools you need to make your reading challenges mobile. The Beanstack Tracker App was the first mobile app of its kind in the market, and it remains the leading app for reading challenges, with over 10,000 user ratings and a score of 4.7 stars. And as mobile device adoption becomes the norm for students across the country, we anticipate that in only a few years mobile app logging will not only grow but also surpass desktop-only logging.

The connection is clear: mobile apps are growing in popularity and directly link to higher participation rates in summer reading programs. Our conclusion? A mobile experience is no longer an option, but a must-have for reading challenges. To see the Beanstack Tracker App in action, schedule a demo.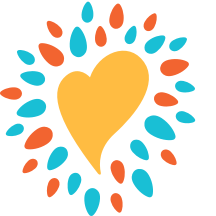 Schedule a demo!
Learn about the Beanstack Tracker App for challenges.