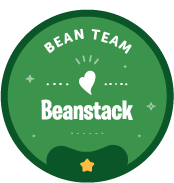 Level 1: Bean Team — Demonstrate your Beanstack knowledge
Ready to get your certification? Yeah, you've got this! To earn this badge, complete four of the six activities below:
Attend a training at your school or participate in a virtual Beanstack training.
Present Beanstack to your students and ensure they know how to log their first minutes/books in Beanstack.
Create a unique reading challenge or opt into a Beanstack-run challenge like Winter Reading in which students at your school may participate.
Customize your Insights dashboard and check to see which grade level has the most active readers over the past month.
Review all of the reports. Select one that is useful for you. Then, customize its columns, and download or schedule the report to come to you regularly.
Share the impact Beanstack has had on your students by leaving a 1-2 sentence review of our Beanstack Tracker app in the App Store or Play Store.